Keyword Research doesn't have to be hard.
Enter the keyword or the URL you want to analyze.
Instantly get valuable insights and hundreds of suggested keywords.
Study the SERP and find out how to outcome your competitors.
Find the most used terms by your users.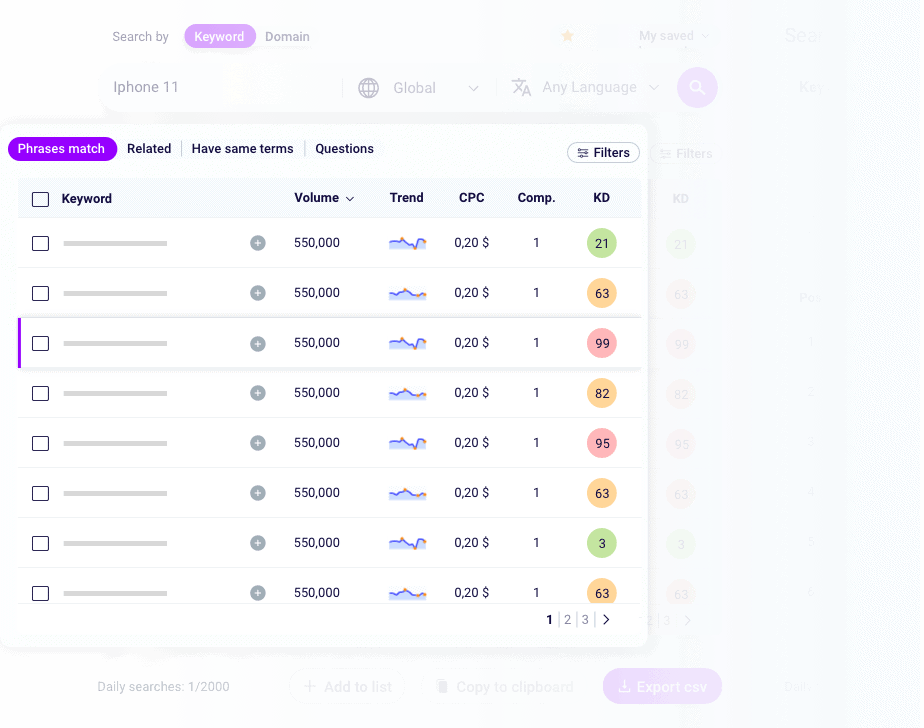 Find thousands of suggestions and easy to rank long-tail keywords.
Discover what your customers are looking for and generate keyword reports in a matter of seconds. Our Keyword Explorer Tool is powered by 1.4 billions of keywords: we're pretty sure you'll get what you need.
Spy your competitors and get unmatched advantage
Do you want to outrank your competitor's website on Google? Simply paste his domain's URL and let the magic happen. Discover what keywords he is ranking for and get suggestions on how to steal him traffic.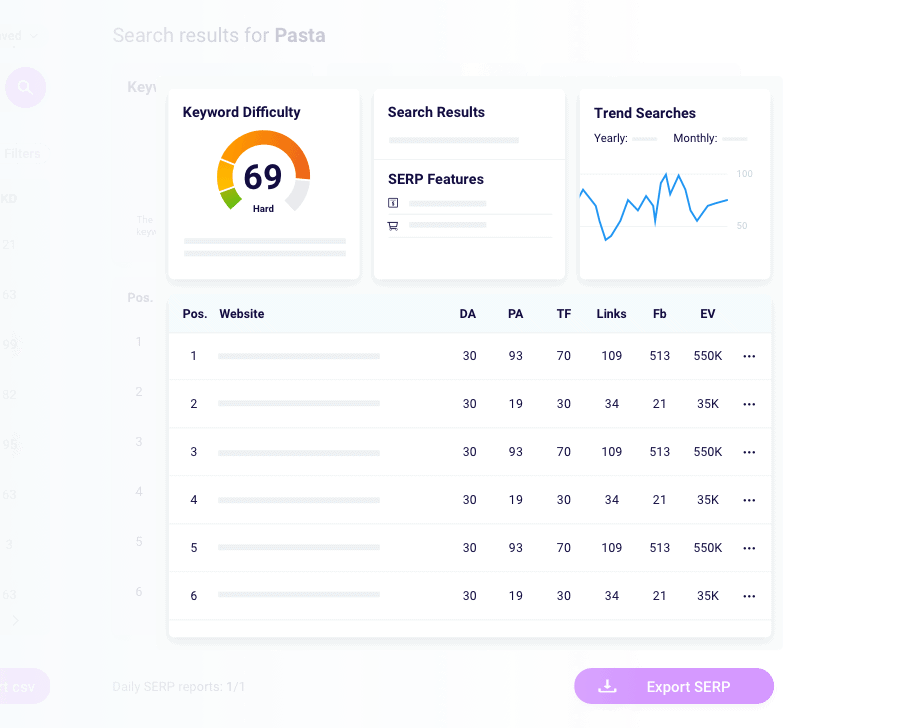 Everything you'll ever need to get more traffic. In one tool.
Extreme flexibility
Tools should adapt to your workflow, not vice-versa. Use filters to select data ranges, look for phrases match, related, questions and much more.
All the metrics you're looking for
You'll get valuable insights like traffic volume, keyword difficulty, CPC, and competition for paid campaigns.
Make searches all around the world
Search keywords selecting the country and the language. Wherever your business is located, the Keyword Explorer Tool has the answers you're looking for.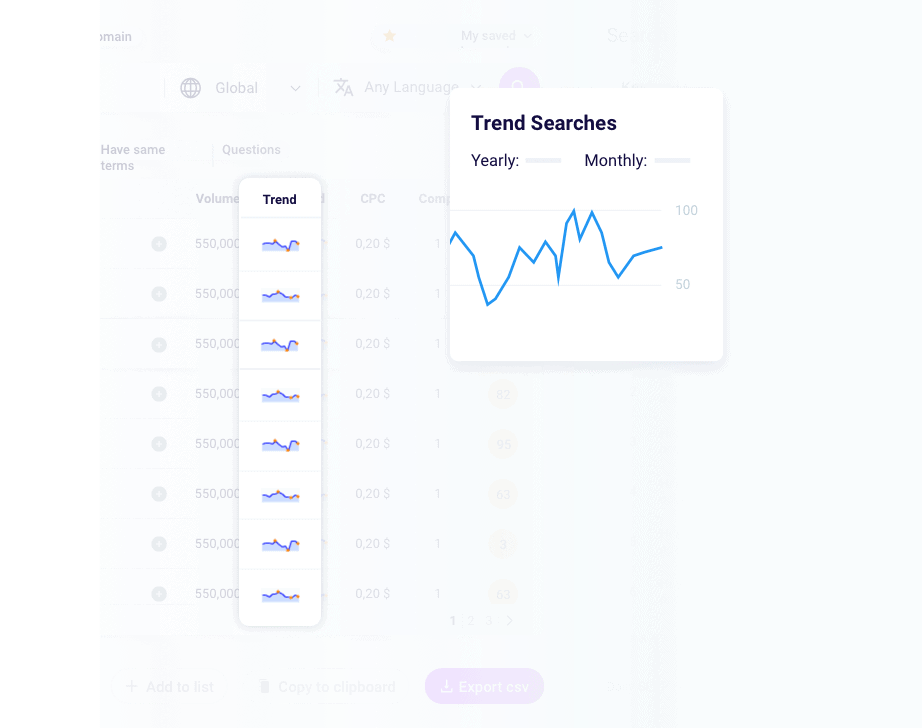 Make a leap into the future with Search Trends.
Our Keyword Explorer Tool is the most similar thing to a space telescope that will tell you how to rank on Google and where your niche is heading. Jump the gun and be always ready.
From local to global, we've got you covered.
Whether you have customers all around the world or you run a local business, Keyword Explorer Tool has the solution to help you get visible to your audience.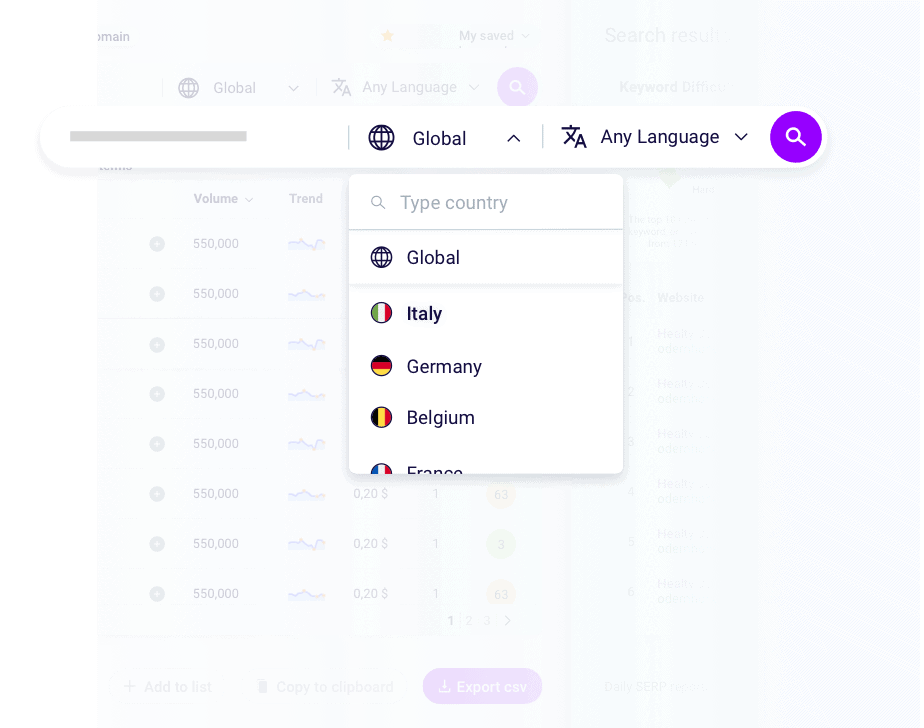 Something more than a Keyword Research tool
Analyze the SERP
Keyword Explorer Tool will crawl the SERP for every keyword searched, giving you a complete overview of features and competitors who are currently ranking.
Powerful and user-friendly
Our platform is designed to let everyone generate a great impact with SEO. Our tools are perfectly integrated and powered by innovative algorithms.
Save and export keywords
Save lists of keywords directly in our tool or export them in .csv files to upload them on Google Keyword Planner.
Backed by (big) numbers
Our tools help thousands of Marketers, E-commerce, and Web agencies to get found online.
Explore over
1.4 billions
of keywords
Our users have performed
+4 millions
of SEO analysis
A data-set with
36 countries
supported
Recommended by entrepreneurs and digital consultants
Thousands of users are already climbing the SERP.
Here's what they say about our platform

Federico Papa
Startupper | Ludwig.guru
Excellent service! Very precise in the analysis and intuitive to use. Really a great job!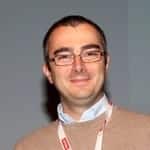 Carlo Camusso
Entrepreneur | Fattura24
Seo Tester Online is a great service. It allows you to go straight to the problem and investigate it with simplicity. More than recommended, essential!

Manuel Strano
Developer | Freelance
I'm developing a FAQ platform and I needed to know what to optimize right away. Simple, precise and effective. Fantastic!
Ready to get on top?
Try all of our tools for free and start your climb to the edge of Search Engines.