What is our Floating Button and what is it for?
Offering a good UX (User Experience) to SEO Tester Online users has always been one of our company's priorities. That's why in this short article you will find out what the Floating Buttons are and what they are for in the lower right corners of the web pages and our SEO suite. Let's begin!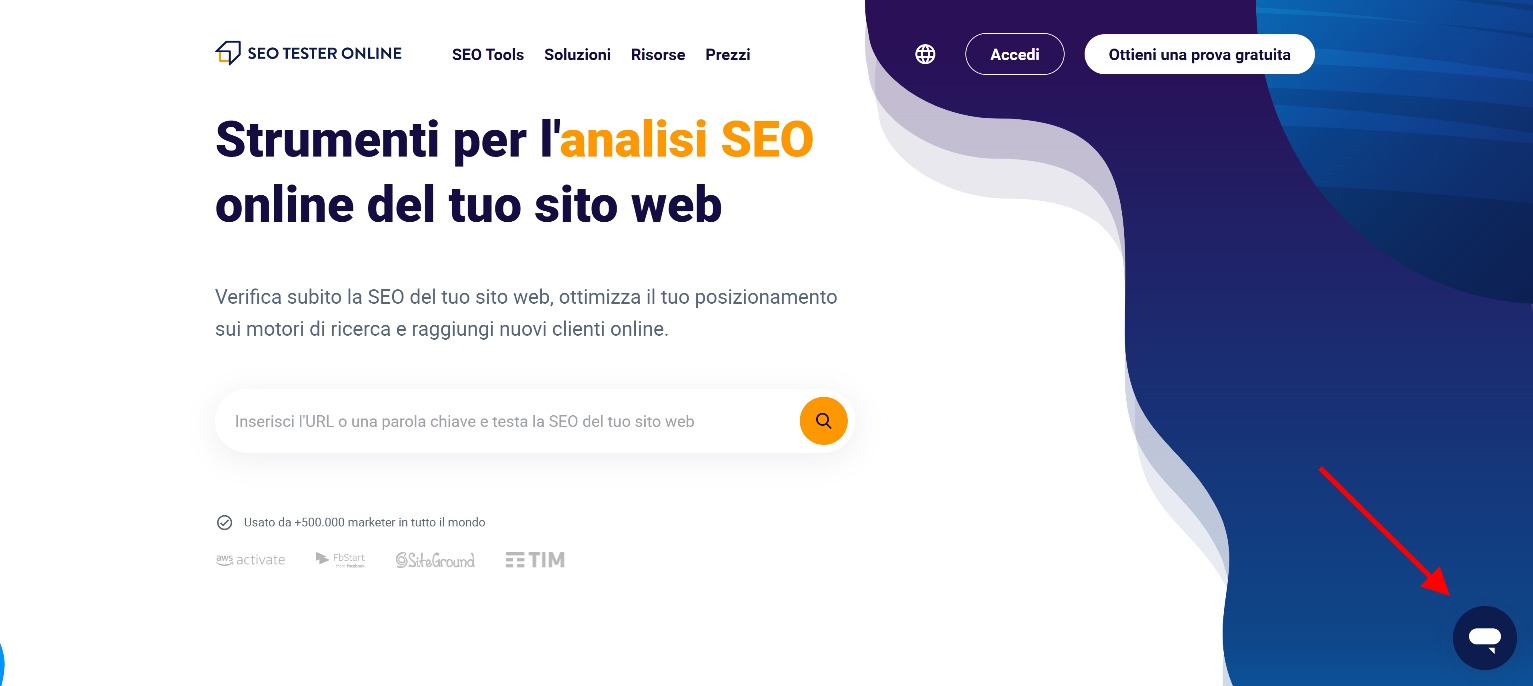 What is a Floating Button and what is it for?
The Floating Button is an action button that "floats" in the corner of a website and stays in that position when we scroll down the page. It is a shortcut used to perform actions, help users navigate or provide them with clarifications.
What can you do with our Floating Buttons?
SEO Tester Online adopts two types of Floating Button:
Website
The first Floating Button is present on our website seotesteronline.com and allows you to interact with a Chatbot.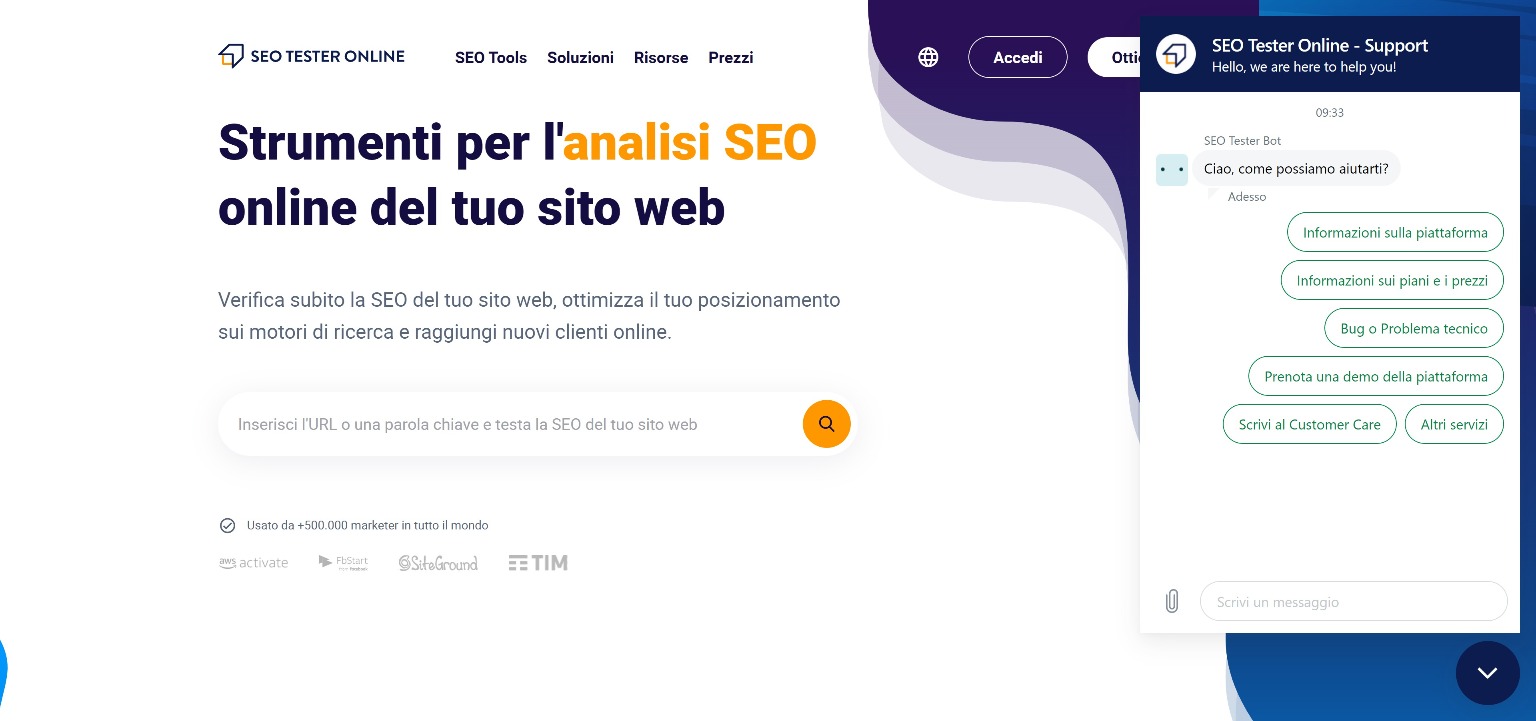 It is always ready, 24 hours a day, 7 days a week to provide solutions to your questions. And, as you can see, it also suggests a list of frequently asked questions that it is capable of answering in a snap.
So, for example, if you need information about our platform, you could select the "Information about the platform" item and instantly get an answer with any further questions.
The latter help the bot to better contextualize your specific case and allow it to respond as precisely as possible.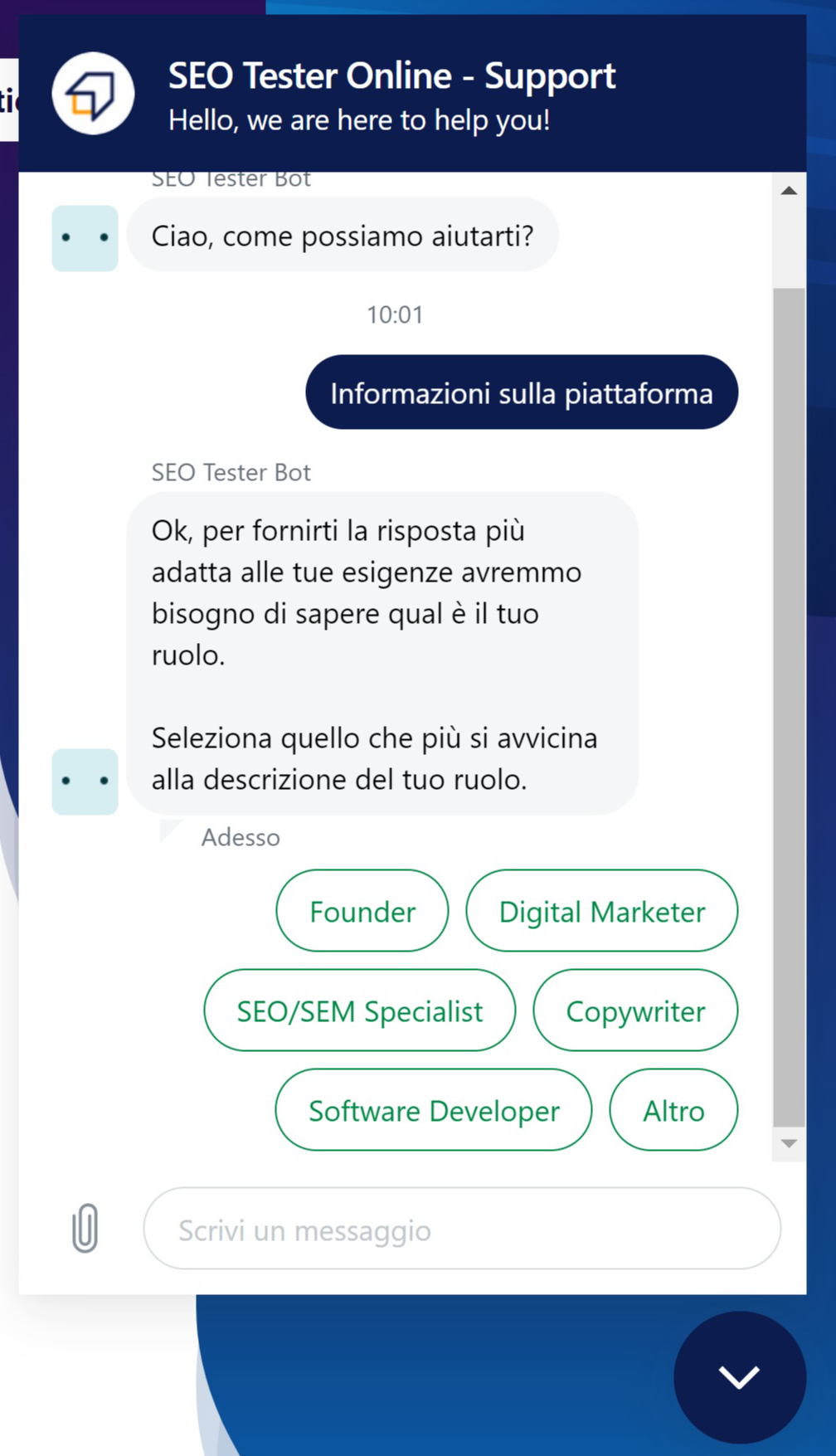 By selecting the other options, such as "Book a free demo", "Information on plans and prices" or by typing a custom text in the "Write a text" box, you will always get precise feedback and all the useful information to answer your questions or simple doubts.
In case you need further information or information to which the bot is unable to respond, then at any time you can open a ticket via the "Contact" section. The latter is present in the menu under "Resources".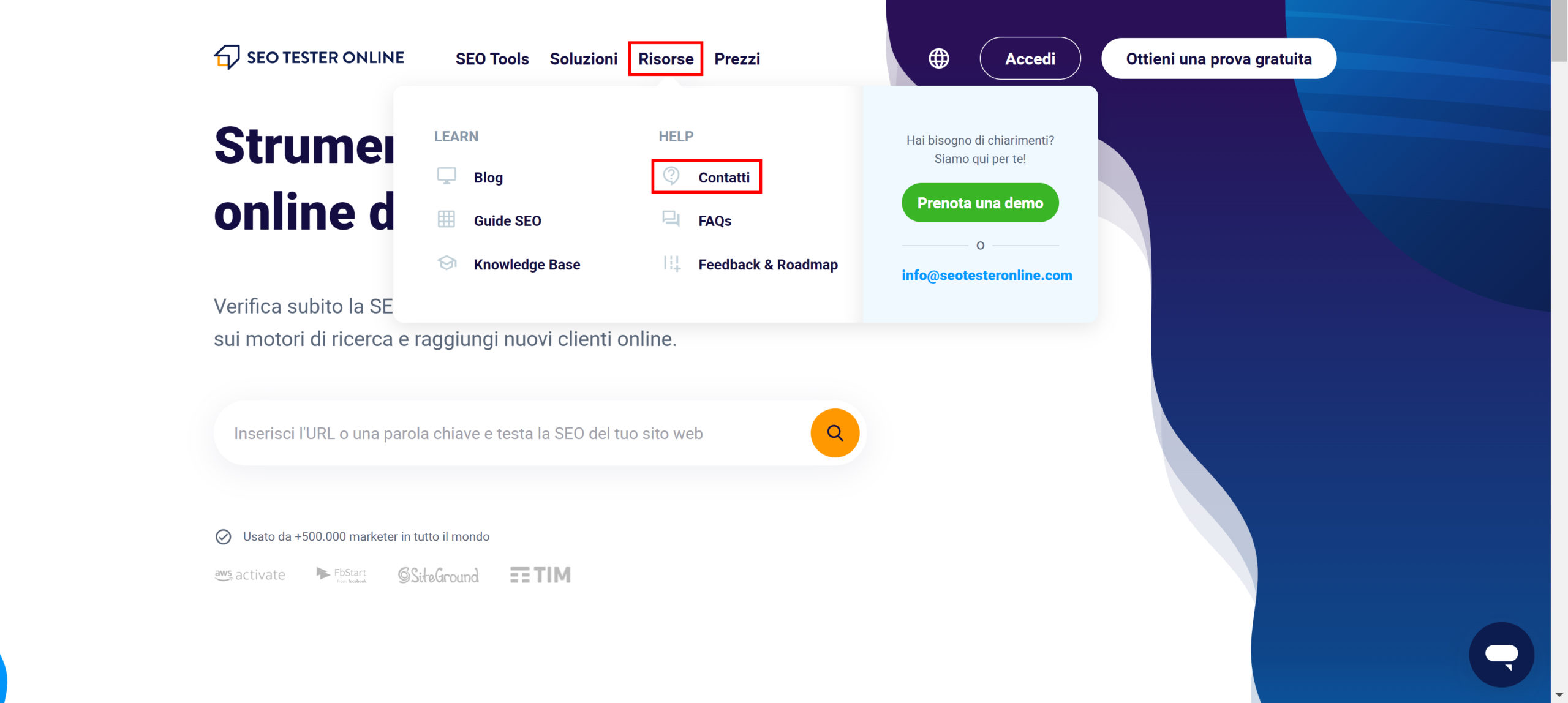 SEO Suite
The second Floating Button, on the other hand, is located on our SEO suite and offers users a series of shortcuts to useful resources to make the most of the tools, check the status of credits and limits, or to contact technical support. But let's see the various items together, point by point, in the following paragraph.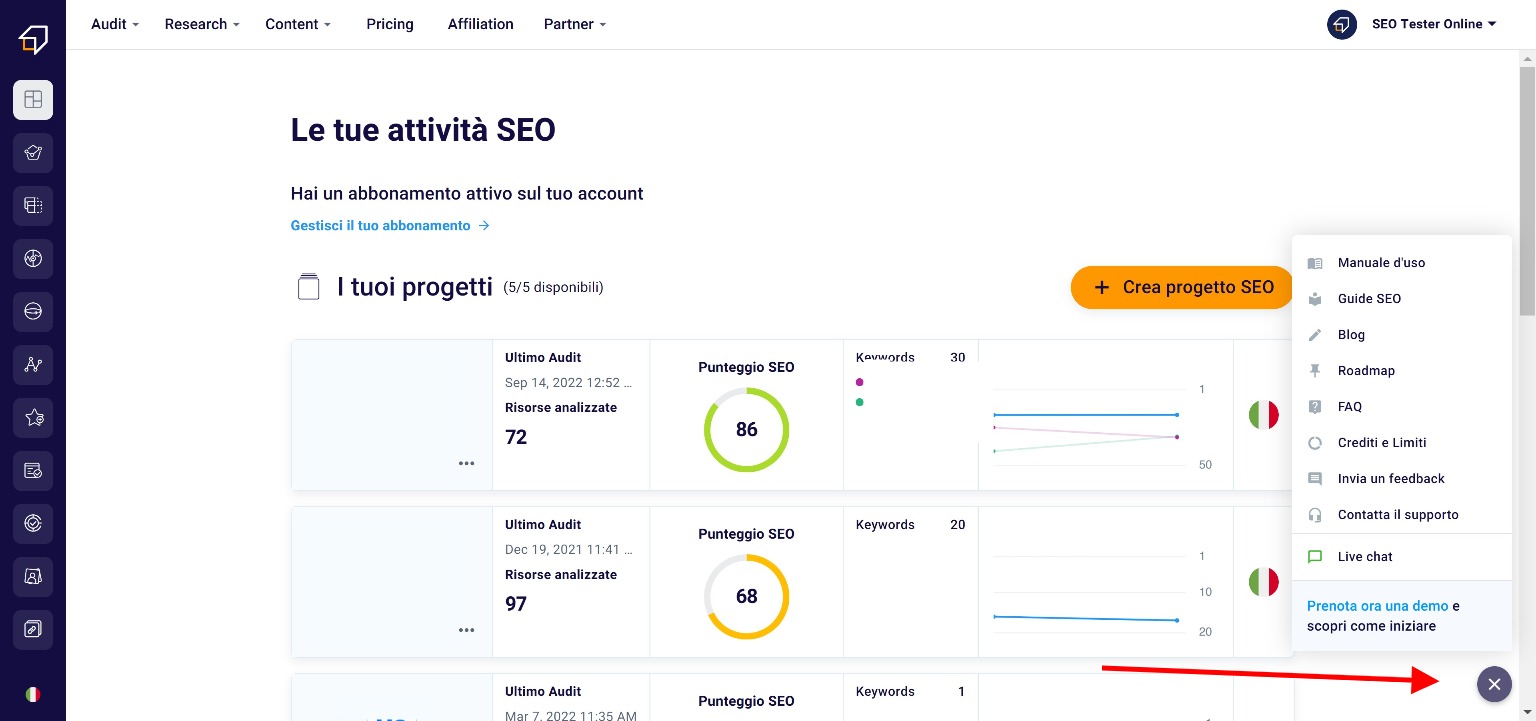 User Manual: allows you to access the User Manual, useful for learning how to best use our SEO tools;
SEO Guides: allows you to access our SEO Guides, useful for deepening the salient SEO issues;
Blog: allows you to access our Blog, where you can consult interesting articles on SEO or information on news regarding the platform;
Roadmap: allows you to consult our Roadmap, or check which were the last important updates made to SEO Tester Online or propose a new feature;
FAQ: here you will find the answers to the most frequently asked questions;
Credits and Limits: this section of your profile allows you to check the status of your credits and the management of limits;
Send feedback: if you want to send us an opinion about our tools, then this link is right for you;
Contact support: we have always given great importance to Customer Care, for this reason it is possible to contact us at any time and report any critical issues;
Live Chat: allows you to interact with the Bot we talked about in the previous chapter;
Book a demo and find out how to get started: from here you can make an appointment with our experts to learn more about the platform and discover some possible solutions to your needs.
We have come to the end of this guide. Let us know in the comments how you feel with SEO Tester Online's Floating Buttons!
Remember that by subscribing to our Telegram channel, you will receive constant updates on the platform and useful insights into the SEO world.