How to Create an SEO Keyword List
By reading this guide, you'll understand how to build Keyword Lists to: 
Set up an effective SEO strategy;

Create an Editorial Plan for your site;

Write complete and detailed articles, product cards, and landing pages. 
By following our tips, you will attract more quality traffic to your website.
What is a keyword list, and why is it useful?
Before you understand what keyword lists are and why you need to use them in your SEO, it's critical to understand what Keyword Research is.
Keyword Research is the search and analysis of the queries that users enter on search engines. (e.g., Google, Bing, Yahoo, Amazon). 
A good search of key terms allows you to understand the real needs of your audience and then produce useful content.
If you want to learn more about this topic, we recommend that you read our Keyword Research Getting Started Guide.
In a keyword list, the search queries are bound to each other by a common search topic or intent.
Creating one will help you design content that answers the questions your potential users ask.
After the Google Bert algorithm in 2019, the use and repetition of "individual" keywords have become obsolete, while long-tail keywords become more crucial.
In recent times, people started using voice searches more. These are the searches uttered by mouth using voice assistants such as Siri, Google Home, and Alexa. 
As a result, keywords are becoming more discursive and reflect our natural language. 
That's why it's essential to focus on related keyword groups more than just the main keyword.
How to Create a Keyword List?
To set up an effective SEO strategy, and create keyword lists to optimize your Content Strategy, start by defining the fundamentals of your business.
Ask yourself:
Who is my ideal customer?
Start by identifying your buyer persona. Shopify, in its guide "How to create a buyer persona," defines it as a fictional character who embodies your potential customers, their needs, and their ideals.
What problems do you solve, or what needs you to address with your products or services?
Be sure you address specific needs and problems related to a niche. You can, for example, create particular websites for them. Narrow down your target can help you avoid the competition of generalist web giants.
Remember: if you speak to everyone, you're talking to no one.
Who are your competitors?
Discover your competitors using tools like Similar Web. You'll need to create useful keyword lists.
What makes you different and unique from your competitors?
Always ask yourself why your potential customers should choose you over one of your competitors. 
Now, after answering these four crucial questions, you can start!
Create a Keyword List to structure a site
If you're creating a site from scratch, and you don't know what keywords you should rank your blog or e-commerce for, study your competitors. 
Create a generic Keywords List. It must contain the terms that reflect your business and the needs of your potential users.
How to do it?
Use the Keyword Explorer tool. Search by domain. Start by writing the URL of your competitor's site.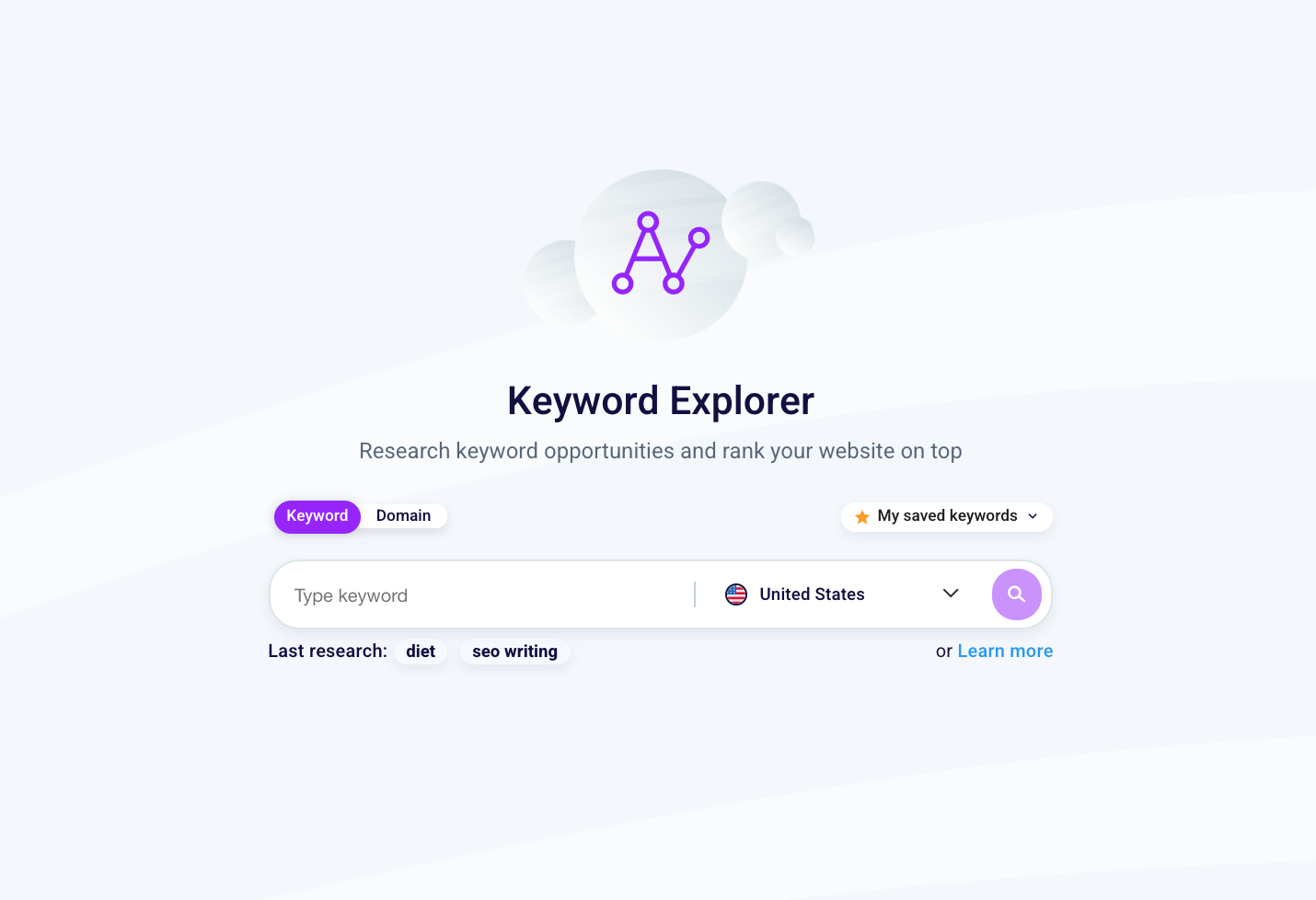 Let's say you want to build a site where you sell "musical instruments." One of the biggest competitors will be https://www.thomann.de
 Choose your country and click on the lens to analyze 🔍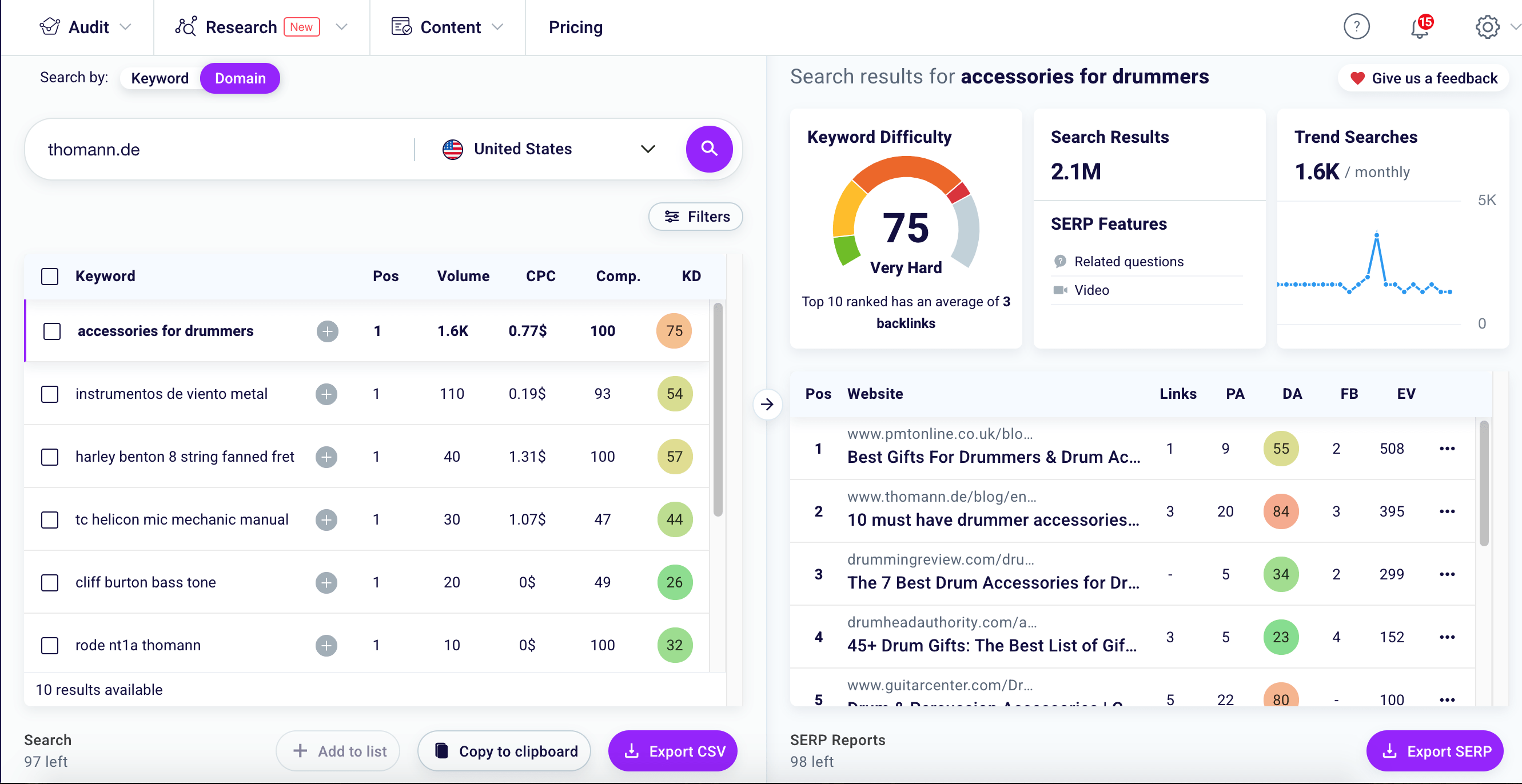 Analyze the SERP (left screen) to find out all the keywords your competitor ranks for.
If you just started, your website will have low domain authority. So, it could be a good move to focus on long-tail keywords with medium-low KD, less than 50 out of 100. Also, look for medium-low search volumes (up to about 300 monthly searches).
Set filters correctly.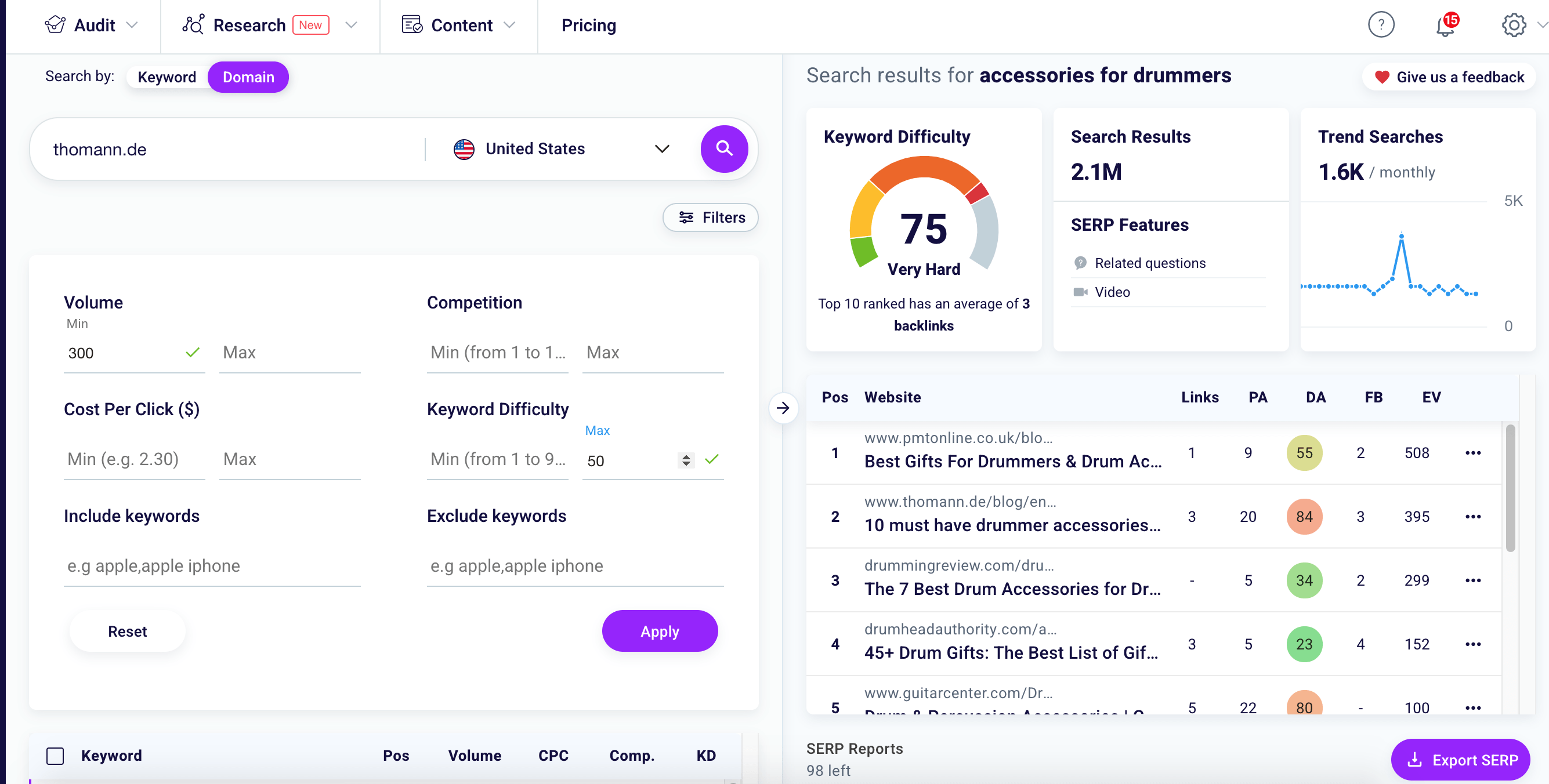 We also recommend that you click "Related Searches" to create a list as comprehensive as possible.
Did you know that you can create your list in one click? 
To do this, simply select the plus button next to each keyword, and create a new list. Then, add the keywords that most reflect your business.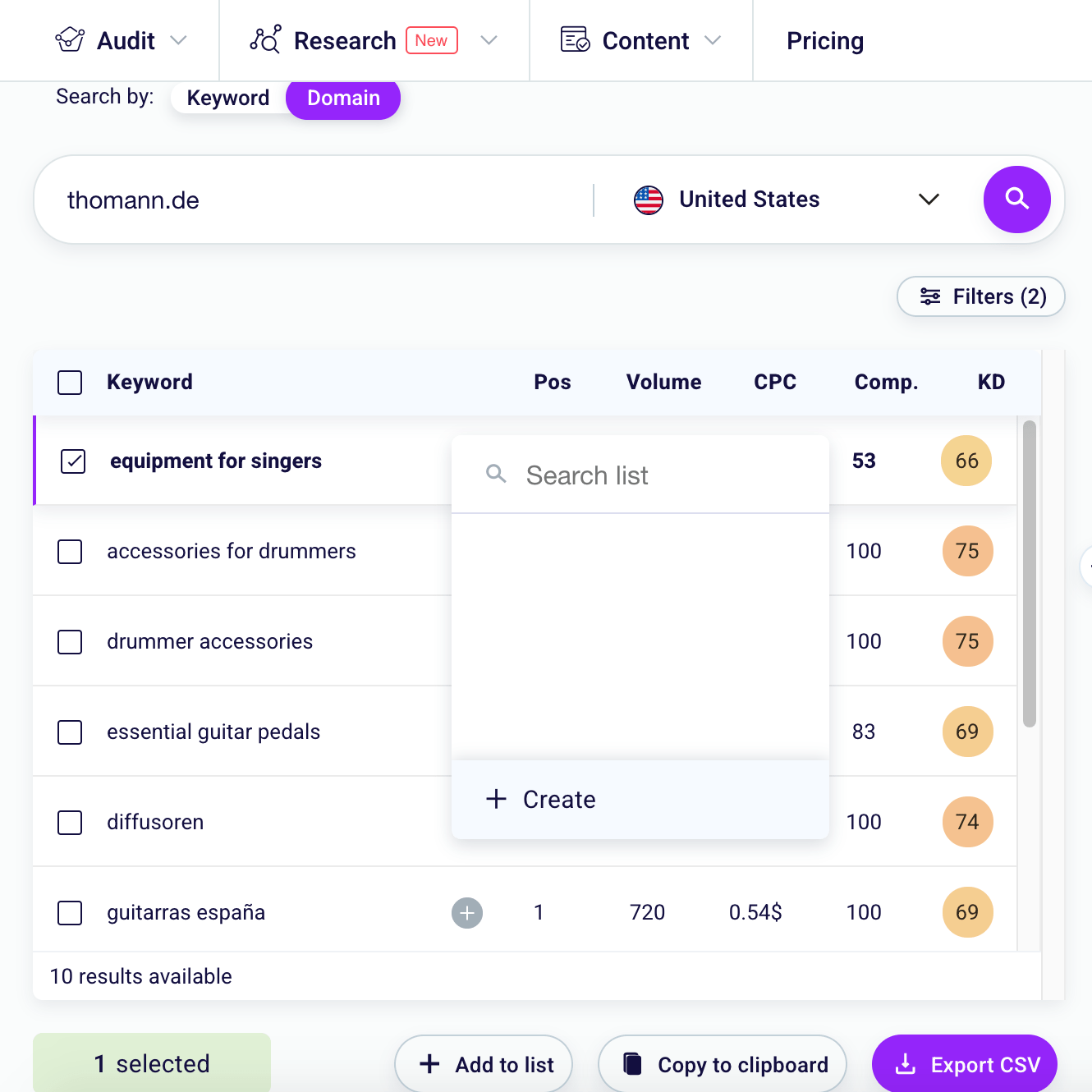 We've added this feature to: 
Speed up saving and managing lists;

Help you focus on your analysis.
We recommend that you repeat this for your main competitors so that you have a clear overview of which keywords are most used in your field and for which you should fight in SERP.
This list will help you set the sections and editorial plan of your site.
Create Keyword Lists for content
Create different lists for different needs.
If your site or customer's site is a blog section, we recommend that you create a keyword list for each category/tag and for each article.
For example, you need to write about diabetes, do a search, and create a list to insert that main keyword, secondary keywords, and semantically related keywords.
To make such a list, you have two options.
Use the Keyword Explorer Tool or
Use the Keyword List Manager
Keyword List Manager is SEO Tester Online's new tool to collect, manage, and share your favorite keywords.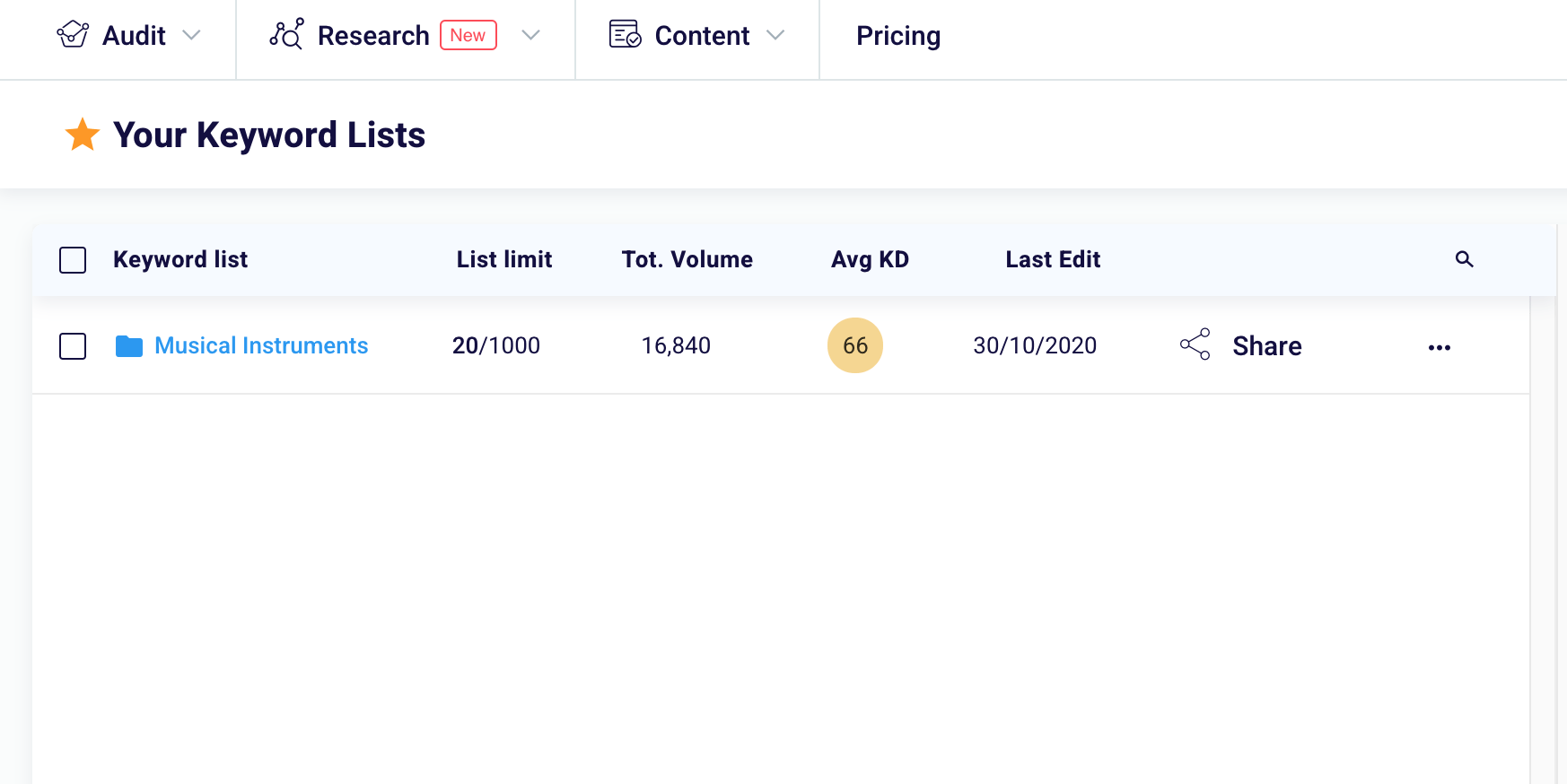 There, you can see all the lists you have created with their respective metrics:
Total Search Volume and Average Keyword Difficulty.
We created it to give you an excellent alternative to the usual Excel Sheet and optimize your SEO Workflow within our suite.
In these more specific lists, pay close attention to the search intent you want to intercept. This will help you later in writing relevant content with user queries.
Let's say you have a startup-focused blog, and you want to write about crowdfunding.
If you already know the terms you want to position yourself for, simply click on "Create List."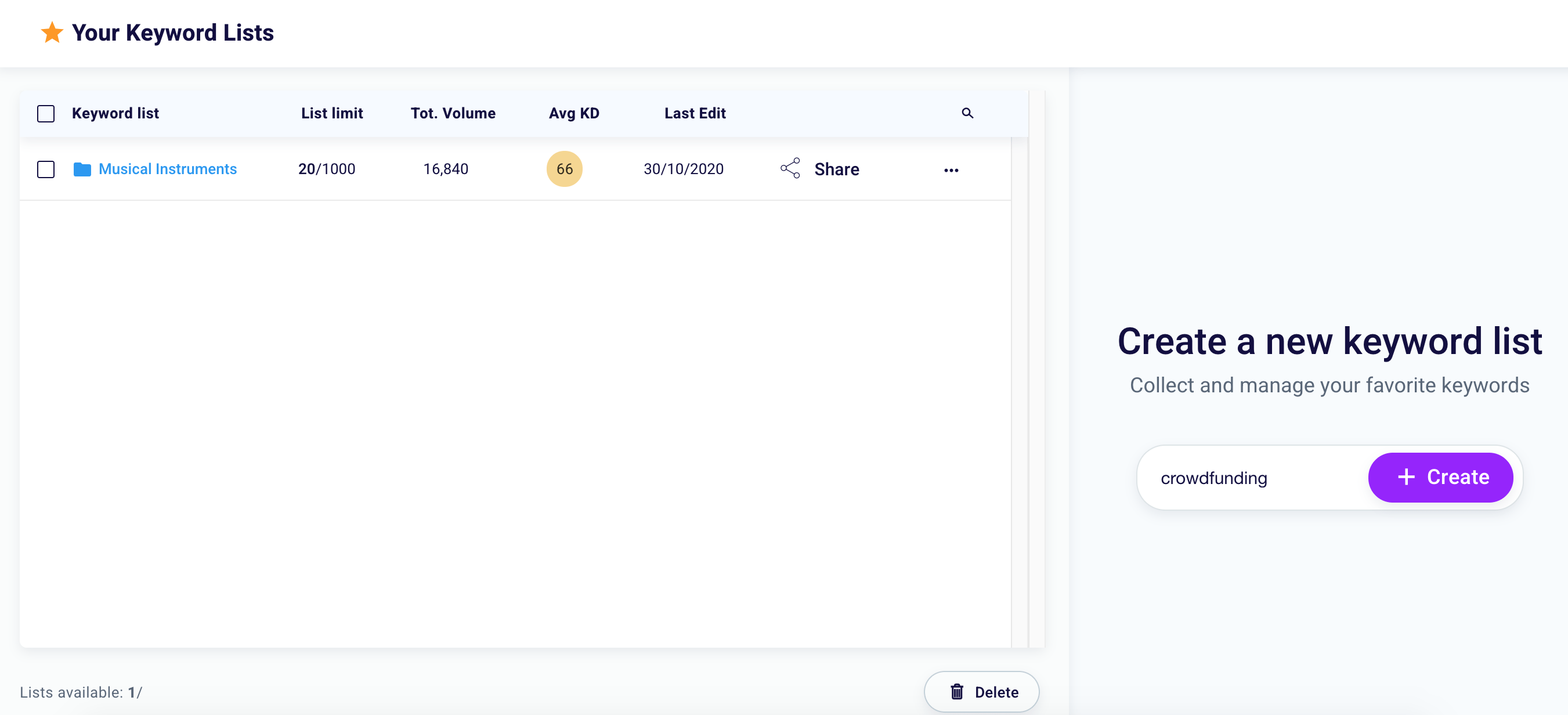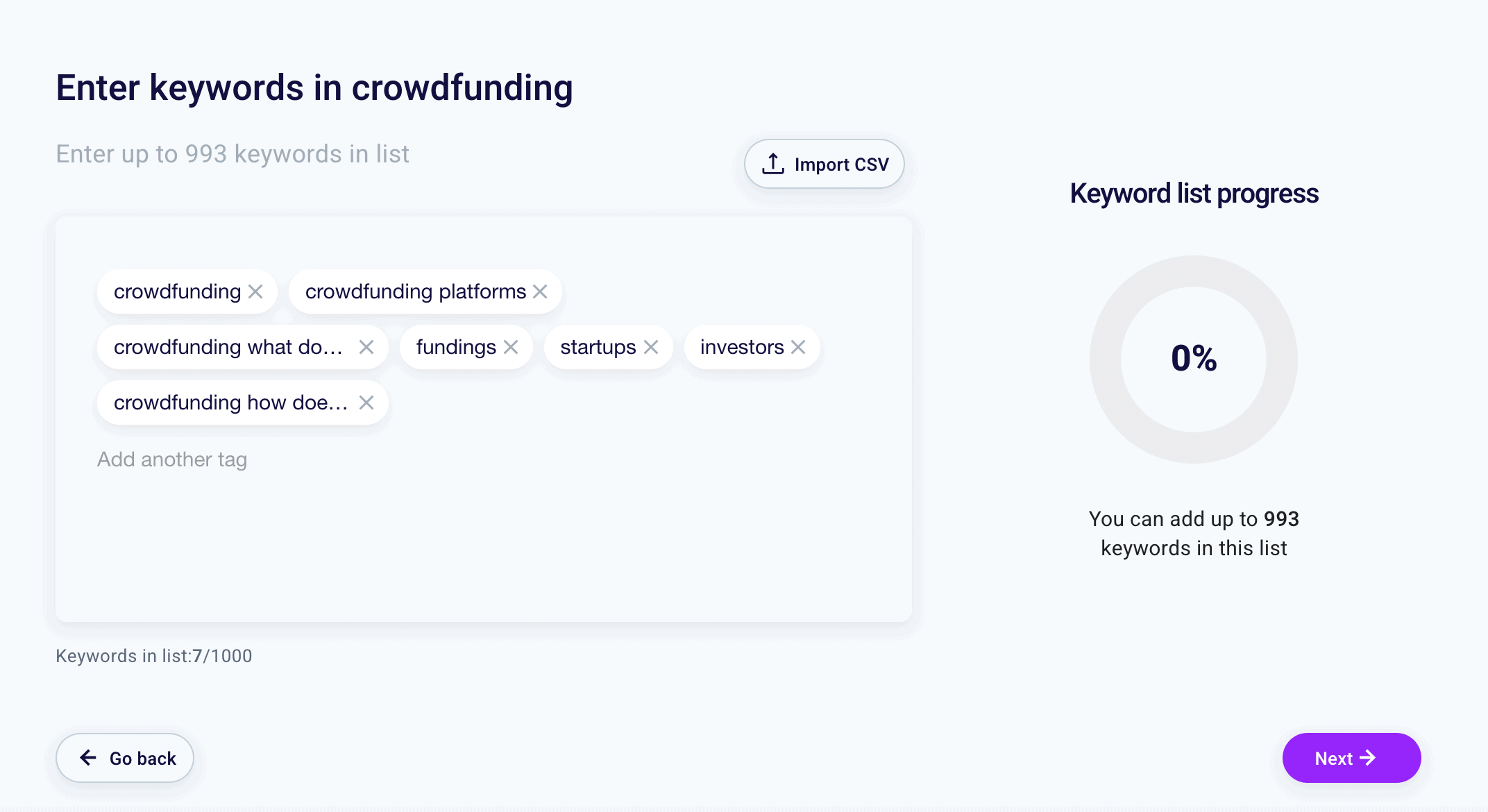 Click to continue and select the country. If you have a multilingual site, we recommend that you enter more than one country to build a keyword list that will come in handy for many purposes.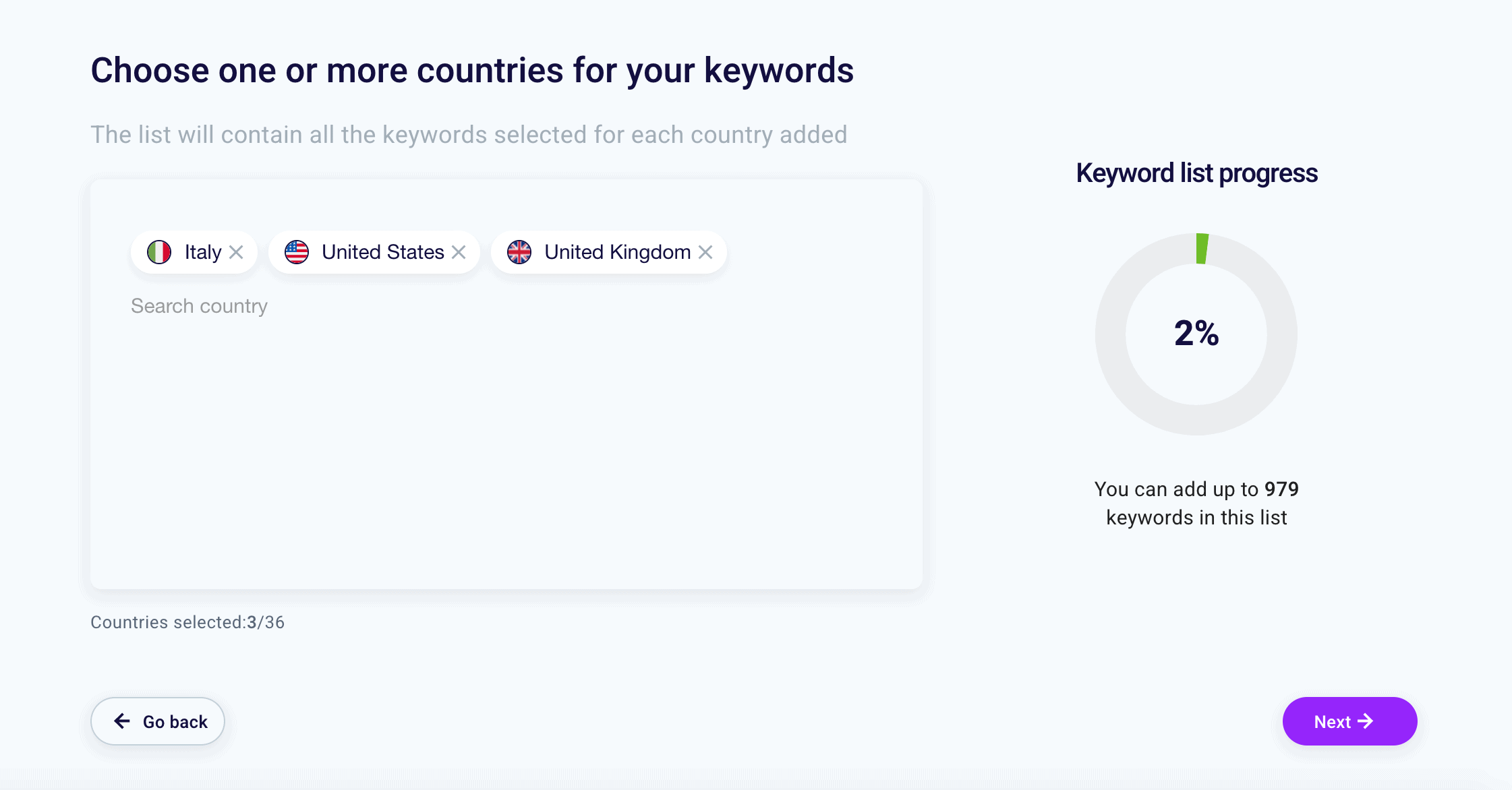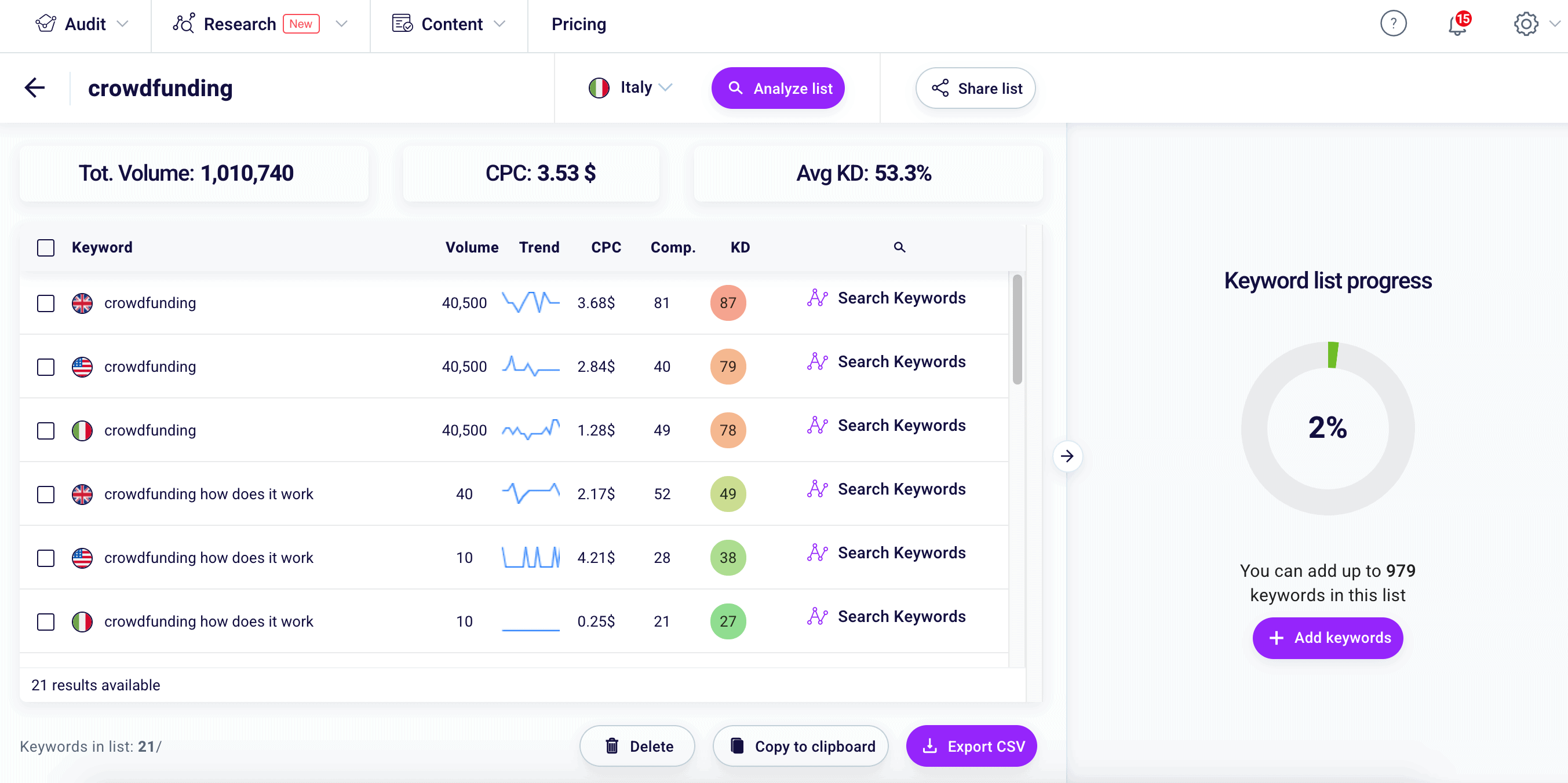 Don't forget that you can export your keys to .csv and that you can share your keyword lists to your customers or collaborators (even if they don't have an SEO Tester Online subscription) by clicking "Share List."
Want to use our new Keyword Research tools?

Access the 7-day Free Trial and improve your content optimization for search engines! 
We're waiting for you on board! 🚀