Guide to Twitter Cards: what are they?
Introduction
If you use or have ever used Twitter you will most likely have seen and interacted with Twitter Cards.
We already know what you are thinking right now: what are Twitter Cards?
We will see it today in this article and we will understand why it is important to use them in your SEO Strategy.
We will then show you what types of Twitter Cards exist and how to create one optimized in a few simple steps.
What are Twitter Cards?
Twitter Cards are a powerful tool with which you can attach photos, videos, and multimedia experiences to your tweets.
This allows you to bring traffic to your website from your Twitter profile or any other tweet profile.
Types of Twitter Cards
There are 4 different types of Twitter Cards for different consumer experiences, both mobile, and desktop.
We distinguish:
Summary Card: card in which to insert title, description, and thumbnail;
Summary Card With Large Image: similar to Summary Card, but with a larger thumbnail;
App Card: a Twitter card with a direct download to a mobile application in the Apple Store or Play Store;
Player Card: can provide video, audio, or media.
Why should you use Twitter Cards?
According to some data reported by the official Twitter Blog, Twitter Cards drive some important benefits in terms of performance.
It has been found an increase of 64% on URL clicks and an increase of 26% on engagement rate.
Other good reasons to use this tool are:
Increase in the number of downloads of the apps posted;
Analyze tweets of this type in detail, observing clicks, app installation or sharing;
Encourage engagement and interactions.
How to create and post Twitter Cards?
What you need to do is add a few lines of HTML code to your web page, so that users who link to your content will have a "Card" added to the Tweet that will be visible to their followers.
First choose the type of Card to implement and add the correct meta tags to the page.
Here is an example of a Summary Card:
<meta name="twitter:card" content="summary">
<meta name="twitter:site" content="@publisher_handle">
<meta name="twitter:title" content="Page Title">
<meta name="twitter:description" content="Page description less than 200 characters">
<meta name="twitter:creator" content="@author_handle">
<meta name="twitter:image" content="https://www.seotesteronline.com/wp-content/uploads/2019/12/seo-editor-image-e1576082747313.jpg"
If you use WordPress, we suggest to use plugins like Yoast SEO, Rank Math and SEOPress in order to quickly setup Twitter Cards on your web pages.
Once downloaded, simply log into your admin section and go to the Yoast SEO-Twitter section. Then you can edit all the data related to the Twitter Card as Title, Description, and Image.
Remember, you can only have one Twitter Card per Tweet.
Twitter Cards: some Best Practices
To create great Twitter Cards that carry traffic you need to follow 5 simple tips:
Enter a description up to 200 characters long;
Enter a descriptive page title up to 70 characters long;
Specify the type of Twitter Card to best show the content of your page when the URL will be shared;
Specify the URL to have a complete and effective Twitter Card;
Optimize all elements of the Twitter Card i.e. Title, description, image to improve the user experience.
Pictures for Twitter Cards
Remember that Twitter Cards support: PNG, WEBP, GIF, and JPG as image formats.
In Twitter Cards, images are fundamental. It is what your follower sees first.
For Summary Cards images cannot exceed 1 MB and must be at least 120 x 120 pixels.
For Summary Cards With Large Image the minimum image size is 280 x 150 pixels.
App Cards and Player Cards require images with a minimum size of 800 x 320 pixels and 640 x 480 pixels respectively.
How to check your Twitter Cards?
To check if you have correctly integrated all the parts in your Twitter card we recommend 2 tools:
Card Validator: Twitter tool that allows you to preview your Cards and modify them accordingly.
SEO Checker: with this tool you can see the score assigned to your Twitter Cards and solve problems related to it to increase the traffic on your page.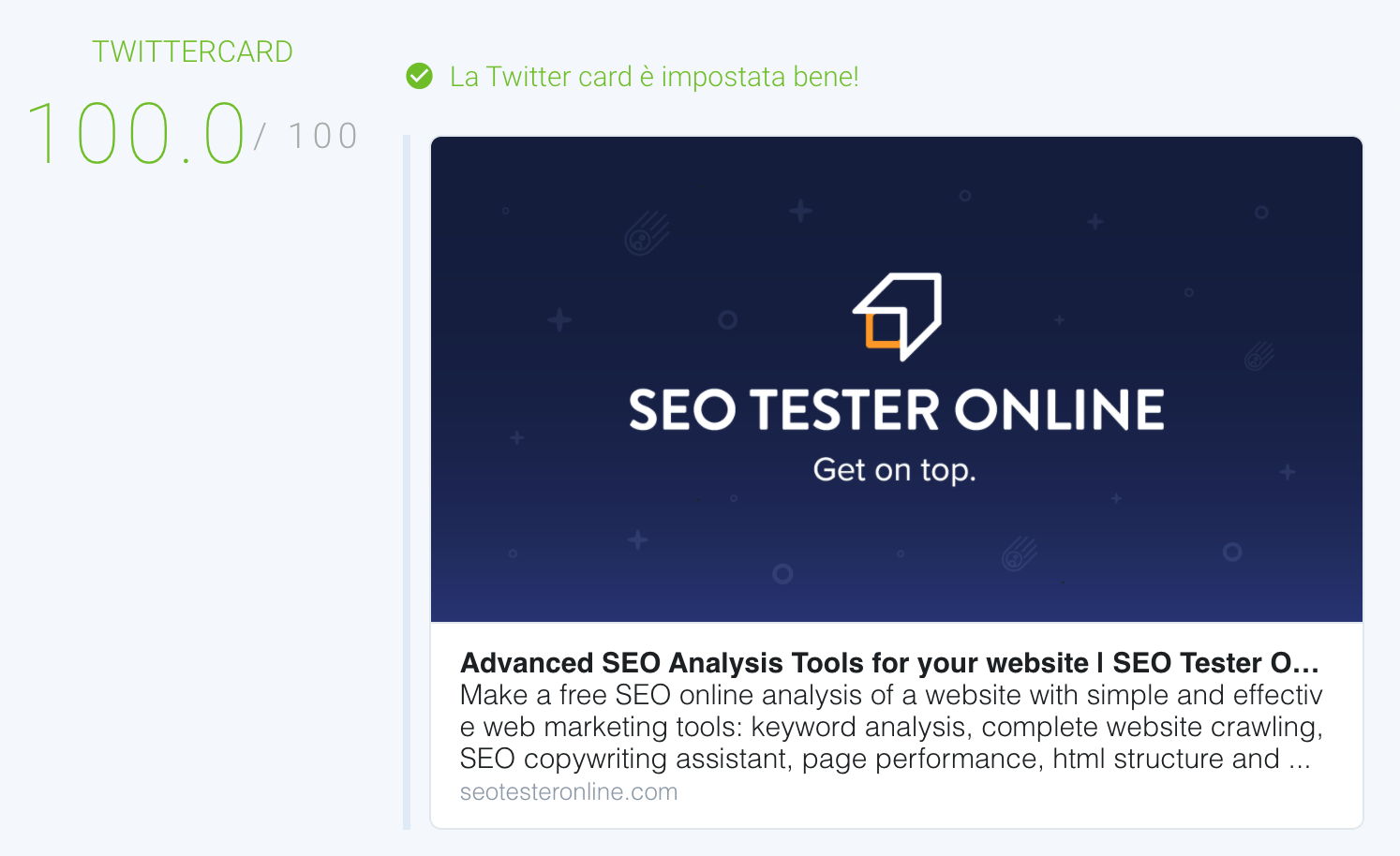 Optimize your presence on Social Media
Social Media is still a great opportunity to make your website grow and to diversify your traffic sources. Don't underestimate social channels, even if the majority of your traffic comes from Search Engines.
Give a look at our favorite WordPress plugins for Social Media!