SEO Oriented Texts: How to write SEO Friendly Content
Hello there! If you're here, there's a good chance you're an SEO Copywriter in becoming, so you're asking what you should do to write an SEO friendly article. Well, you're in the right place. What you're reading is an SEO Friendly article (duh!) that will guide you through the art and craft of SEO-oriented writing with our SEO Editor tool.
We have already written a guide to SEO copywriting. There, you'll find a small manual that helps you in writing compelling articles that will keep your audience reading and getting useful and well-designed information out of it. Remember that writing an SEO-friendly article means, more than anything else, to write well. 
Do keyword research first!
Now, let's get to work! Have you washed your fingertips? Are you comfortable in your seat? Did you do your keyword research? No, really. You can write with filthy hands (gross, anyway) and sit on a nailbed. But you cannot write an SEO Friendly article without doing keyword research. 
If you're missing this part, save this article in your to-read list and read our guide to keyword research.
Write SEO friendly content with SEO Editor
What are the components of an SEO friendly article?
SEO Title
It must be

under 70 characters

It must be

consistent with the rest of the article

. Don't try to write a catchy title to draw people to read an article dealing with a whole different topic. Your audience won't appreciate that, neither Google.

It should

include your primary keyword

.
Content
The article

must be at least 400 words long

because it's hard to produce useful content smaller than this. 

It must contain links

to other pages;

It should include

visual content

, such as

images

. To learn how to use them in your content,

read our dedicated article

.

It must deal with the topics of your primary and secondary keywords.
Headings
Headings are the primary way to organize content and help your readers to orientate within your blog post. We wrote a whole article about them. We advise you to have a look at it.
Other tips
Among other things, you should consider making your article more comfortable to read for both people and bots
by highlighting the key-concepts (keywords and their synonyms) in bold and italics;

by adding alt tags to images
Writing time!
Now, it's time to write. Go to the SEO editor and click on the New article button.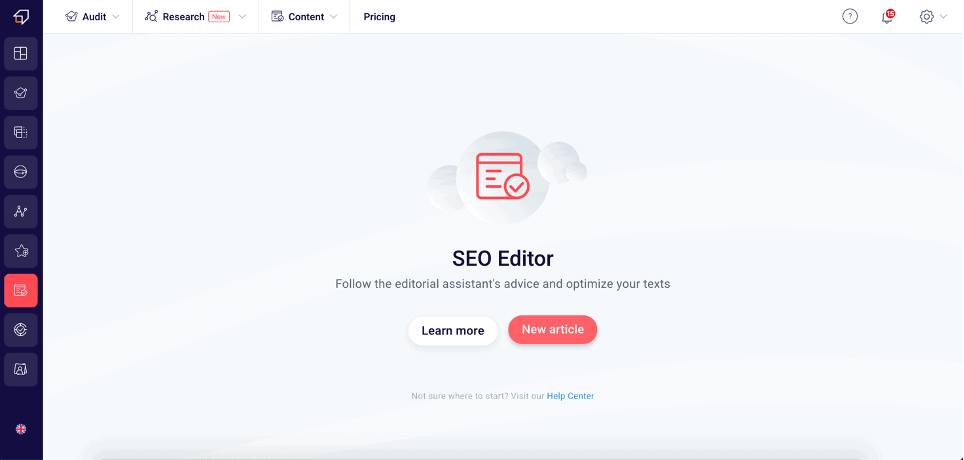 Enter primary and secondary keywords
The first thing you have to do is to insert your primary keyword. As you start writing, the SEO editor will suggest to you which long-tail keywords you should choose with the volume and difficulty. It's simplified keyword research that works great if you don't need a structured editorial plan or are on the go.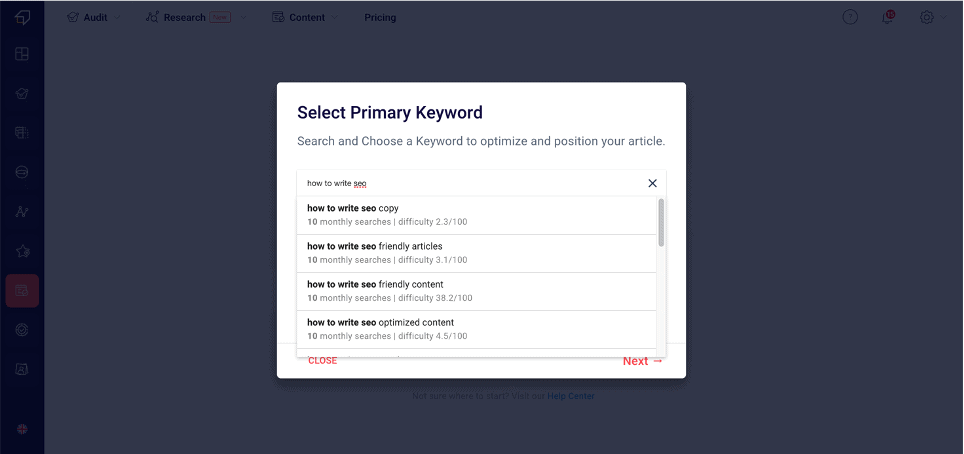 Then, put in the secondary keywords you've found on your keyword research as related arguments.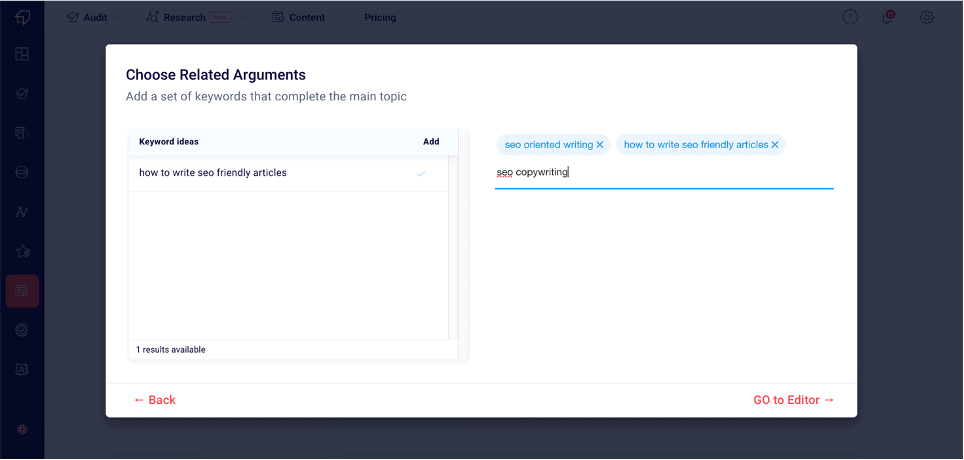 Now you're all set. The next thing to do is to start writing! 
Start your SEO Friendly article: writing title and content
The first thing to do is to enter the SEO title. As we mentioned before, it should include your primary keyword. 

Then, start to write your article, or paste it from your favorite text editor. Don't forget to put your heading titles. You can choose the right format by the toolbar, under the paragraph icon (¶).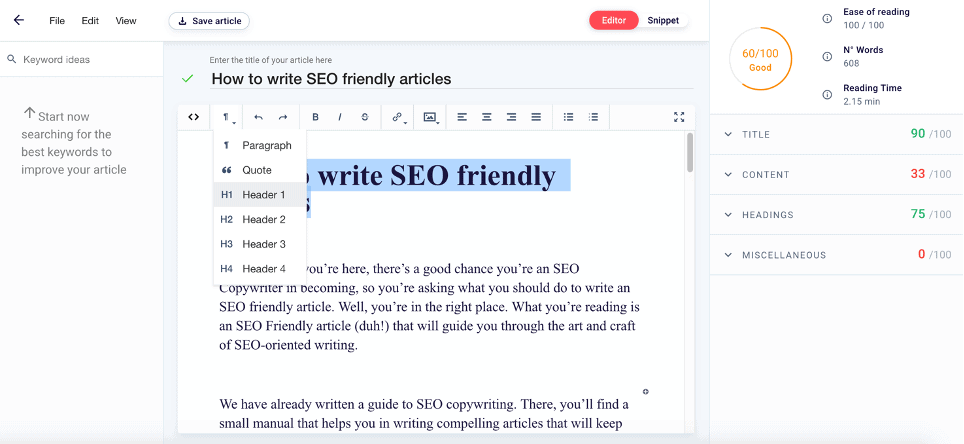 You may notice that, as you progress, your score on the right will increase. Now is 63, we have a good title but not-so-great content. Let's see what we can improve. 
We go under content, and we discover that we should add links and some images.
Highlight a text portion and click on the toolbar's link button to add a link. Then, we add our URL, and that's it!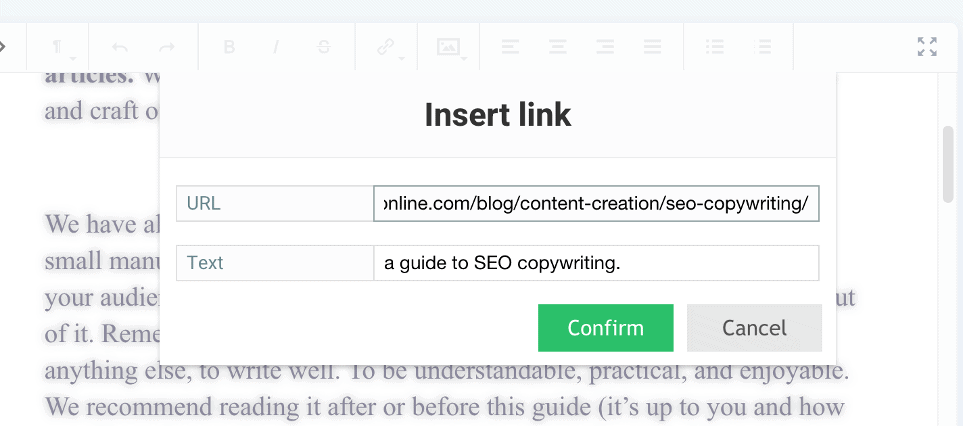 Now, it's time to add an image. To upload a picture, just click on the add image button on the toolbar and add a URL and an alt text.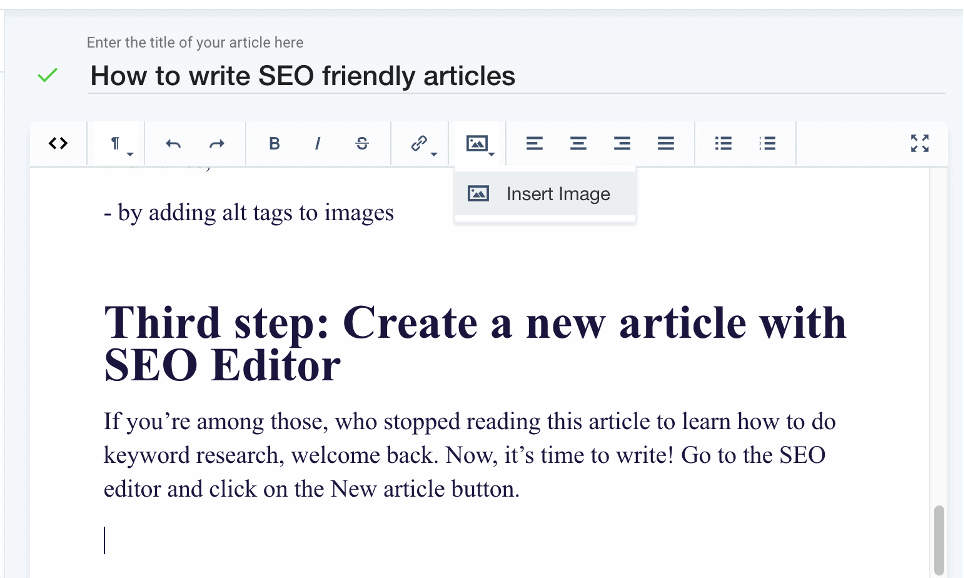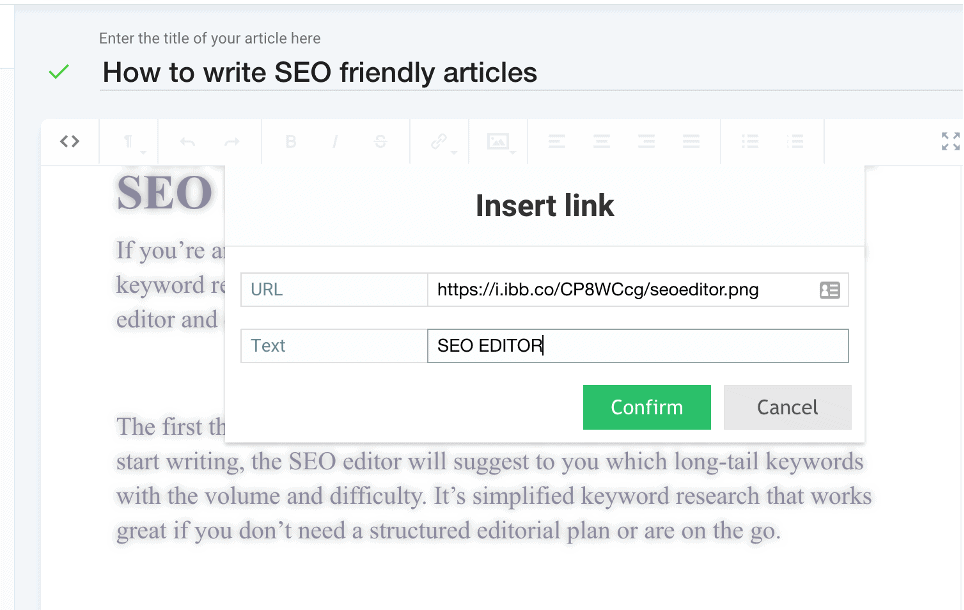 And now we have both an SEO Friendly article with an image and a great score. Happy? You should be. But there's still a bit of work to do.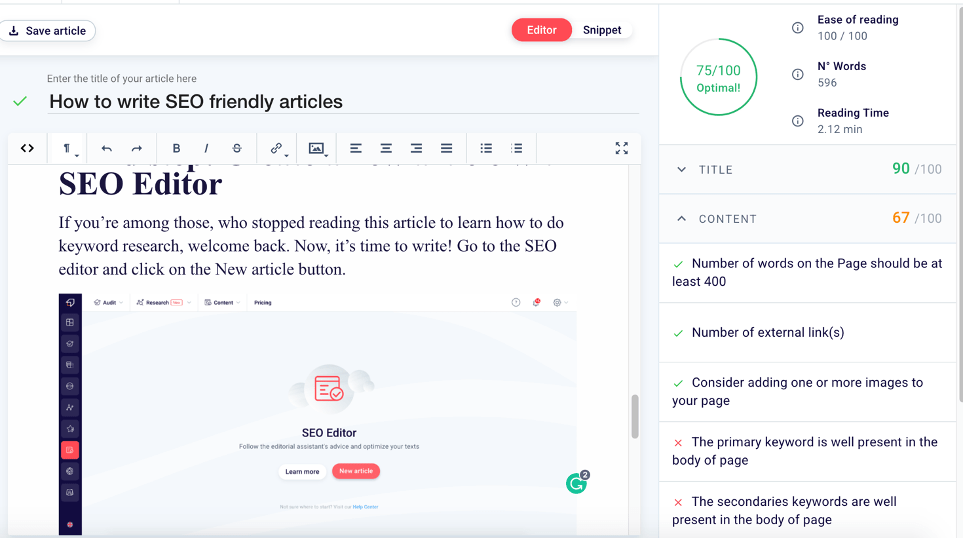 We keep writing until we reach (and surpass) the 400 words limit; add some bolds and italics to highlight our content. Finally, remember to use your keywords often. But be wise: you have to use them naturally to avoid keyword stuffing. In this case, the general rule of thumb is that few are better than too much. 
How to prevent keyword stuffing? The SEO Editor will warn you!  In this case, we used the keyword "keyword research" too many times, and we need to cut some entries.

Modify Optimization
You may need to add (or remove) some keywords. How to do that? Just go to Edit>Modify Optimization.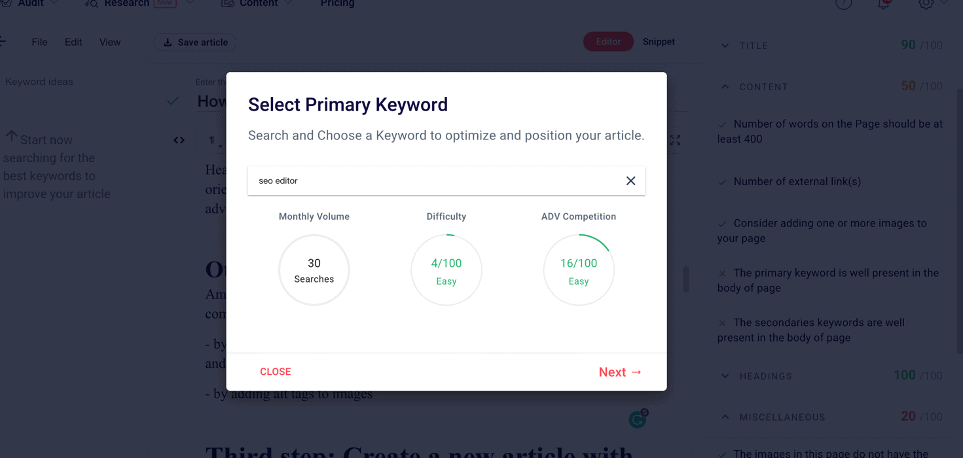 In this case, we switch our primary keyword with "SEO Editor," which has a greater volume. Of course, we also change our Title and edit our content to make our new keyword well distributed over our article.
Now our article is ready to conquer the SERP, but it needs an appropriate preview!
On the top right-hand corner, switch from the text editor to the snippet editor.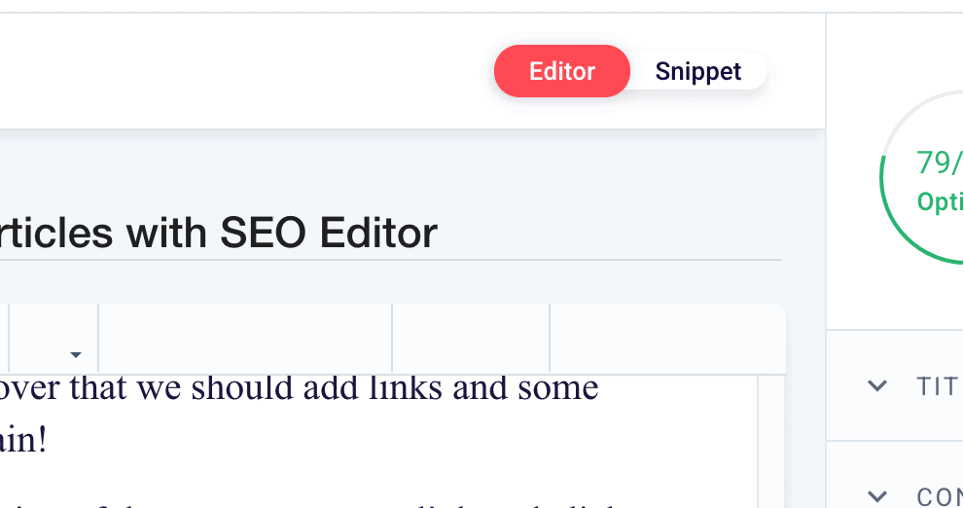 Here, you can edit the SEO title, add a meta description, and copy and paste your meta description tags to your article's code. Then, you can do the same with the Open Graph and Twitter card.

Now you have your SEO friendly article to share and climb the SERP with. 
What will your next optimized blog post be about?