SEO Writing – 7 Steps to write Google optimized content
Most of the time, you need to do more than writing a useful text in SEO writing. 
Creating content that will show up on the SERP's first page is not an easy task. 
In fact, SEO writing basics are about more than that. Sometimes, you have to face a competition that ranks with great content. In this case, you have to resort to more subtle strategies. 
Do you remember about the Skyscraper Technique? It's a set of strategies that aim to take the best-ranking article on the internet for a given topic. Then, you have to improve its content and outrank it. 
You can combine the Skyscraper technique with an SEO writing strategy to create not only a better article but one more SEO oriented, too.  
Find the best-ranking content with SERP Checker 360°  
The first thing to do is to use SEO Tester Online's SERP Checker. With it, you can dive deep into your competitor's SEO writing secrets (and much more!) and break down its content into every SEO fundamental aspect. 
To start the analysis, you only need the target page's URL. In this case, we want to create the best blog post about how to make pizza because our keyword research told us it is an excellent keyword to rank with. 
Then, we select the Copywriting tab and look upon the best-ranking article for our query.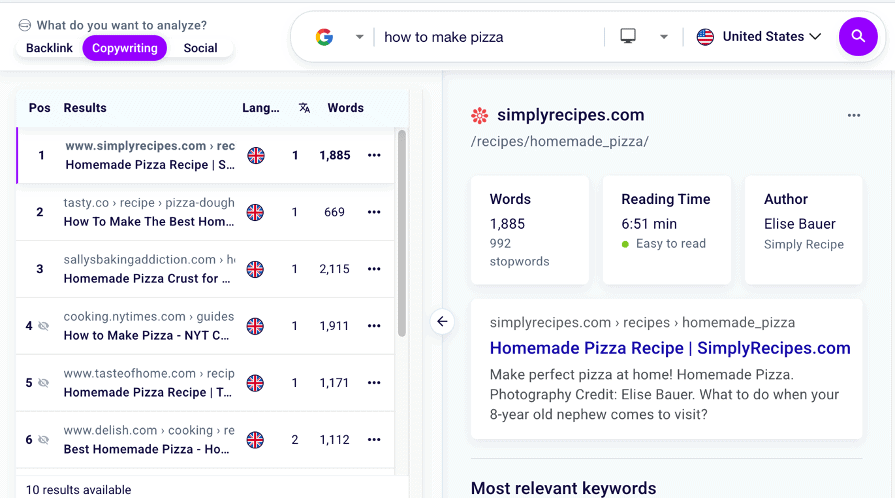 In our case, the blog post at " https://www.simplyrecipes.com/recipes/homemade_pizza/ ranks " best in all departments: backlinks, copywriting, and social. This is our target.
Check the keywords and the whole copy with Copy Metrics
The next thing to do is to analyze the copy with Copy Metrics. Go to the tool page and enter your target article's URL. Then, hit the buttons on.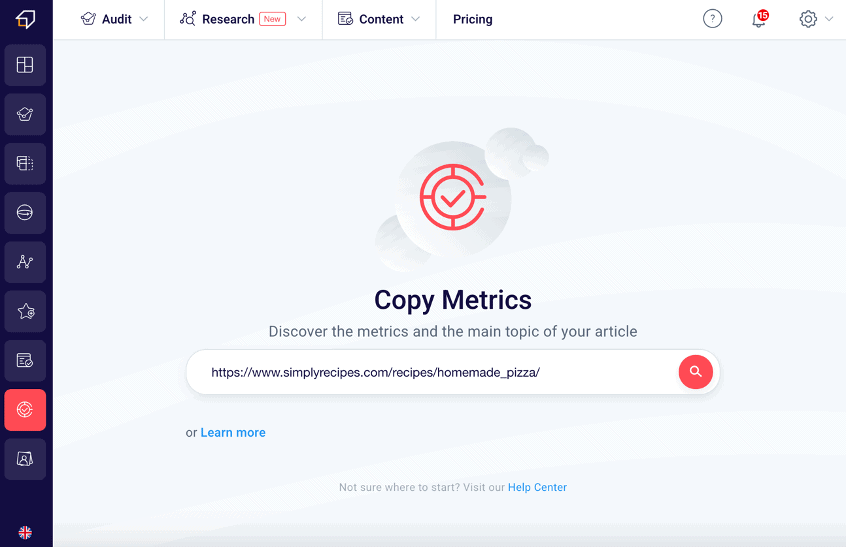 Here's what you'll see. On the left, you'll have the complete copy with a heatmap of the keywords.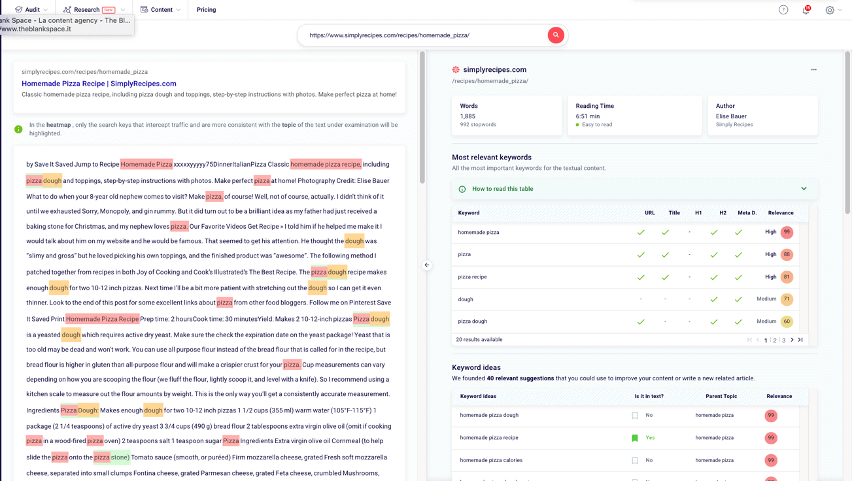 The tool will highlight the most relevant keywords and topics, going from red (most relevant) to green (least relevant). You can use them as keywords in your article, too!
These keywords are then sorted by relevance on the right, under the most relevant keywords. Here, you can also see where they are used (in the URL, headings, SEO title). 
Below, you can see Keyword Ideas. 
This list can give us crucial help in our task. In fact, there are the most relevant keywords in our topic, even those that our competitor didn't use! You can add them to a keyword list or analyze them with Keyword Explorer.
Write a good SEO title
After your keyword analysis, there's the first thing to do in SEO writing: write a relevant SEO Title. Remember to keep it under 70 characters and that it must include your primary keyword.
Create a structure with headings
Create a structure
Headings are useful for both your readers and you, the SEO writer. 
They usually include your main keyword (the H1) and the secondary topics (from H2 to H4). 
Heading titles allow you to give the right relevance to all your topics, but they help you create a structure of your article before writing. 
Here's an SEO writing advice. After you've done your keyword research, write them down in heading titles before writing your article. They may not be your ultimate titles, but they still can give you an idea of the structure you want to give to your SEO oriented blog post. 
After that, magic will happen. It will be like your article is to start writing itself. You will be faster and better in your SEO writing.
Of course, it will also be useful for your readers, who will find the information they're looking for faster and easier.
Go to SEO Metrics. Down on the right, you'll find the list of heading titles your competitor is using. Have a look to get good ideas about how to outrank it.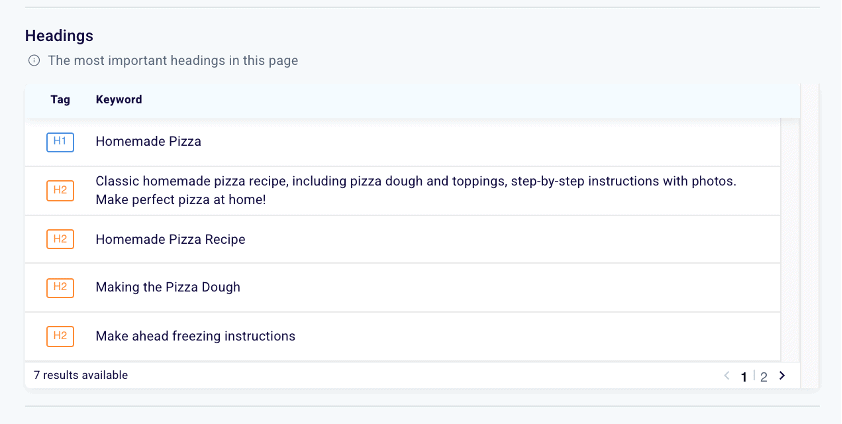 Anatomy of a good heading title
H1 is usually an extended version of your SEO Title, and it should include your primary keyword, too. The other heading titles should introduce a specific sub-topic, so each one must have a secondary keyword. 
For more insights, go to our blog post about heading tags.
Create useful content 
Your first concern when doing SEO writing is to provide your readers with useful content. It means you must give them pieces of information that are original, well-written, and interesting. 
How long should your article be?
There's not a fixed rule but try to keep yourself over 400 words. A lot over, if you can. 
To be useful, it must contain a lot of information and keep your audience no less than a couple of minutes navigating your website. Otherwise, Google will consider your content as spam or not useful and hit your ranking. 
For example, our target article is 1,885 words long, for 6:51 minutes of reading time. A decent length.
Keep it simple
On the screenshot above, you'll also be able to see the reading ease. It is another metric that Google holds into high consideration. Useful content is also one that doesn't force the reader to re-read a phrase over and over again.
How to avoid that?
Write short sentences, add a full stop as soon as you can, keep your sentences simple trying to stick with a main clauses-only policy as often as you can. In this case, our competitor did a great job and we have to do one as well.
Highlight the critical concept
To facilitate reading, highlight your key-concepts using bold and italics. Most of all, highlight your primary and secondary keywords.
The importance of links
Links keep the reader navigating. This is a thing that Google wants. Add useful and relevant links to pages outside your website (external links) and inside it (internal links).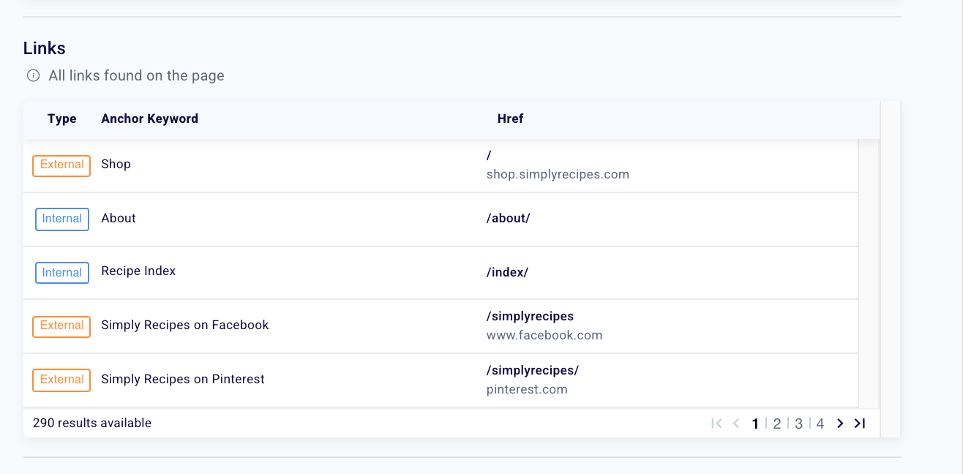 You'll also find a list of external and internal links in your target article on copy metrics. Try to do better on yours, adding more links!
Images are a great complement to your article. They give your audience a break during reading and add more information. Unfortunately, Google cannot see what your images are about. This is because, among other image-related recommendations, we advise to add you an alt tag.
This is a text within the image. It is a fundamental part of SEO writing that tells the crawler what the image is depicting.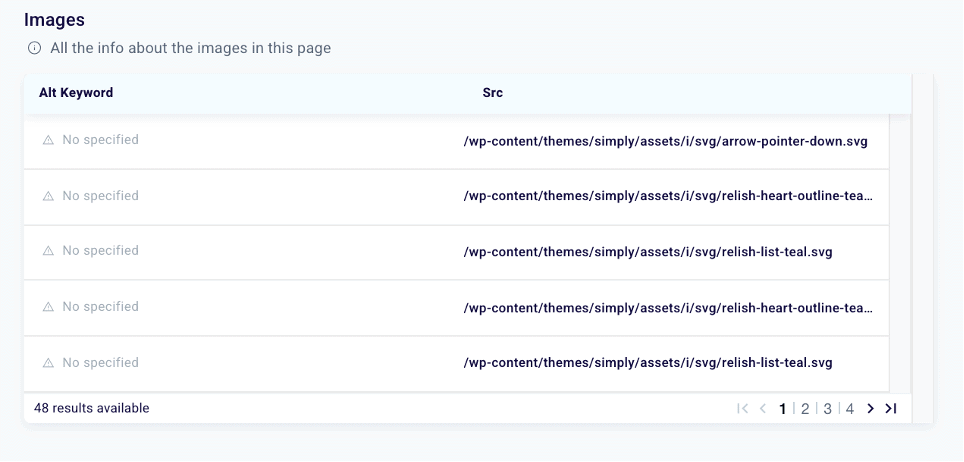 As we can see on copy metrics, our competitor didn't add alt tags to its images. This is a thing we can leverage to make a better blog post.
Recheck Copy Metrics!
Now that you wrote your blog post, maybe with our SEO Editor, that gave you a lot of feedback while writing, check your article with Copy Metrics. Are you using more relevant topics as keywords than your competitor? Is reading time and ease acceptable? Do all your images have an alt tag? 
Climb the SERP!
If the answer to all the questions above is 'yes,' you have good chances to outrank your competitor. Now, do that over and over again and conquer more and more SERPs!