The Beginner's Guide to Skyscraper Technique
Are you struggling in positioning your content on top of the SERP? 
You may have already experienced that, sometimes, it does not matter how good you write a blog post. There's no way to surpass your already well-positioned competitors.
The hard truth is that sometimes quality is not enough. Other websites are just too authoritative. But don't despair; there's a way to position your content and build your way to the summit. 
In this post, you'll learn the Skyscraper technique. It is a mixed strategy of content creation and link building that helps you in positioning your content.
What is link building, and why is it important?
Link building is a strategy that aims to make other websites link to your content. If they are authoritative enough, link building can generate quality traffic. It will give you authoritativeness and improve your ranking.
The more reliable is the site that links to your content, the more the backlink will count as a ranking factor. 
One of the best ways to get quality backlinks is the Skyscraper technique.
What is the Skyscraper Technique?
The name, and the whole technique, are the brainchild of Backlinko's Brian Dean.
He is the author of Link Building Case Study: How I Increased My Search Traffic by 110% in 14 Days. In his article, he explains the on-site and off-site SEO strategy that got him to write a huge blog post.
Then, he made the backlinks to it to skyrocket, and the organic visits to his website doubled within 14 days.
But continue reading, we added extra insights from the content creation point of view.
How it works: a Guide to Skyscraper Technique 
The Skyscraper technique is, in a nutshell:
– discover what content gets the most backlinks in your niche,
– make a better version of it, 
– ask relevant websites to backlink your blog post instead of the other.
Why is it called so? In the words of its inventor:
Have you ever walked by a really tall building and said to yourself:
"Wow, that's amazing! I wonder how big the 8th tallest building in the world is."
Of course not.
It's human nature to be attracted to the best.
And what you're doing here is finding the tallest "skyscraper" in your space…and slapping 20 stories to the top of it.
All of a sudden YOU have the content that everyone wants to talk about (and link to).
It is about creating great blog posts delivering updated, useful, and well-designed content. But let's have a look at all the three phases of the Skyscraper technique.
Find content with a lot of inbound links 
On  Keyword Explorer, choose a general topic that can interest you. Let's take, for example, "SEO strategy."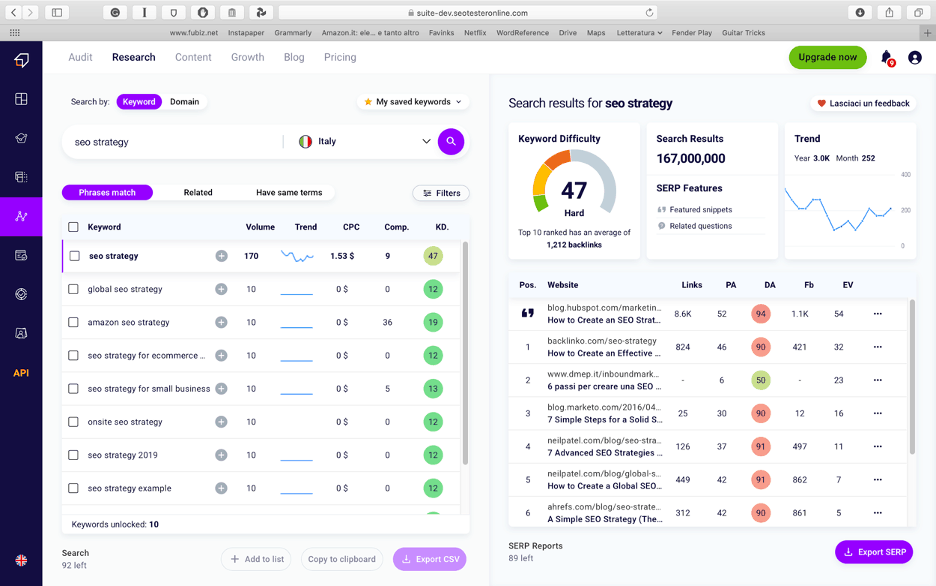 Click on Filters and set a minimum keyword difficulty of at least 10. In this way, you'll get the very best-positioned content for every related keyword. The reason is that the presence of backlinks increases the difficulty. By selecting only high-difficulty keywords, you'll be filtering the content with the most backlinks.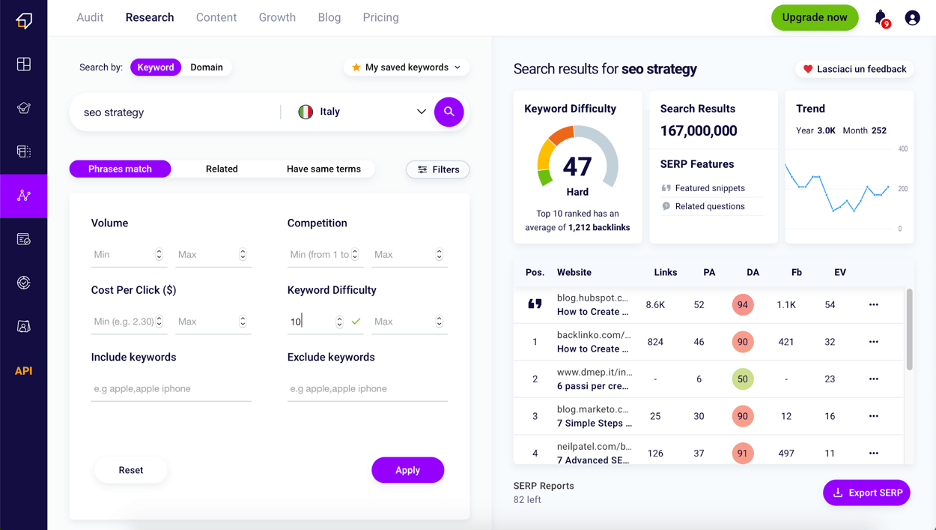 Now, choose the right keyword in your niche and check what content is top-ranked. You can check how many backlinks each result has under "links."
In our case, the most ranked page is no less than on the SERP's zero position, with 8.6K backlinks. 
Also, on Keyword Explorer, you can check both domain and page authority. You'll find them under DA and PA.
Of course, also use reasoning. If the content is too well-written, designed, and updated, choose a different topic. 
In this case, you can opt for a different keyword, a long-tail one. What about the keyword "SEO strategy for small business"? 
Export the SERP list by clicking on the button and then check the articles that get more links. They will be the base of your skyscraper.
Create even better content
Now, you have to start building the other floors. There's (almost) always room for improvement. And this is where you come into play. 
For example, you can write a better article than the starting one. You can rely on the SEO Copywriting techniques you've learned on this blog. Flawless language, an engaging rhythm, and a well-dosed keywording will make the difference.
You can also add long-tail keywords as secondary ones. They will help you reach more search intents than your competitors. In general, you can follow these three strategies. 
1. Add more details to your skyscraper
Make your article a long-form. 
Brian Dean wrote about the 200 ranking factors, much more than any other article. You can do the same here. As you browse the Keyword Explorer SERP for "SEO strategy for small business," you can see results such as:
"5 Top SEO Strategies for small business", 

"7 Effective Small Business SEO Strategies And Ideas", 

"Top 10 SEO Strategies Small Businesses Should Follow",

"6 Small Business SEO Tips for Time-Strapped Entrepreneurs". 
There are a lot of numbers here, and each article has its list. Why don't you write a blog post that gathers all of them?
It means you'll have to write a Roastbeef article filled with information. It will take you a lot of time writing it and doing research, but quality always pays. Who does not love to find all the information in one place?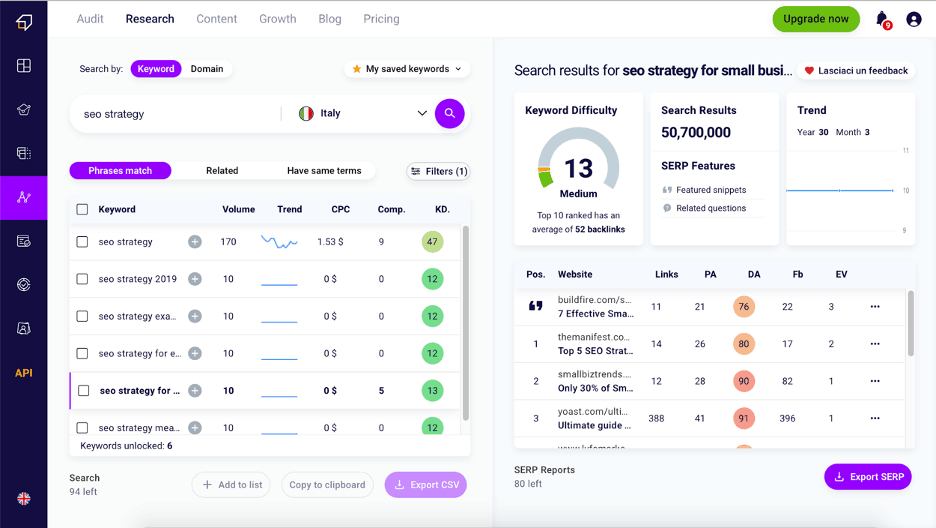 2. Add data-driven content
As Pawel Grabowski points out, data-driven content will increase your credibility. Remember Brian Dean's story about he increased by 110% the organic visits? It is data. People love it because you give them a magic number that will stick in their heads. 
In our case, you can do the same with your article about SEO Strategies for small business. You can show a case study that shows how these strategies increased the ranking.
3. Create a catchy headline 
Now it's time to write a compelling Headline. As we pointed out in our guide to SEO copywriting, they're the first (and often the only) thing your audience reads. It means that it must anticipate the topics of your article. It will give you a good head start if it sticks to one of these categories.
Benefit promise («Increase your income with this one simple rule»);

How-tos;

Numbers («the ten rules to…»);

Questions («Do you want to become rich while sleeping?»);

Empathy/a shared problem («I know how it feels when you are single and broke»);

Promise entertainment («Try not to laugh!»)

Avoid pain («You don't have to get stuck in a job you hate»).
If you write in English, here's a great tool. 
In our case, why don't you use a title like "20 super-effective SEO Strategies to boost your small business?"
4. Spy your competitors
Spying on your competitors' SEO strategy can give you valuable information. Back on Keyword Explorer, choose the competitor you want to spy on the SERP. 
Then, click on the three dots. You can choose either:
"Analyze page SEO" to see the grade of optimization of the page (and the areas in need of improvement you can exploit); 

"Find Keywords" to look at all the keywords with which that content is ranking.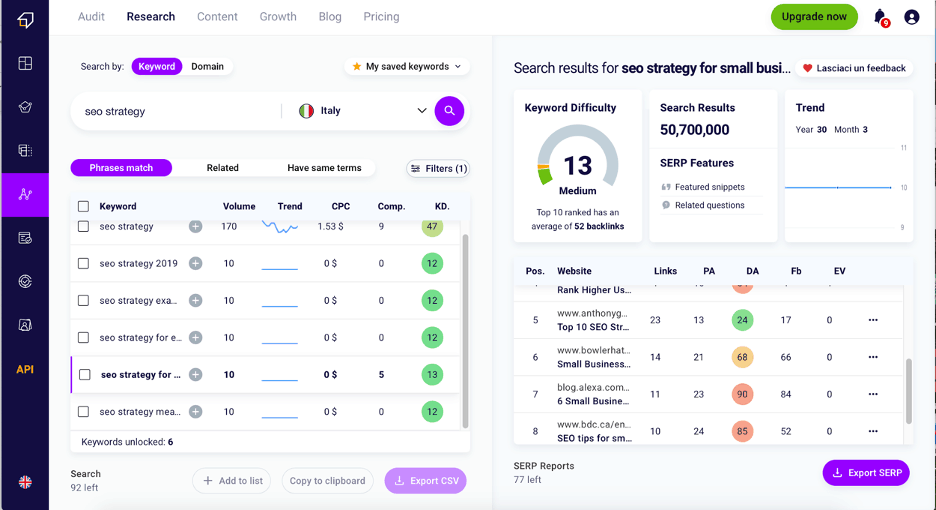 5. Make it updated
Sometimes, the most linked articles are also outdated. It makes them reliable, but with time it may miss some newer – and critical – updates. 
It is good news for you because it means there's a lot of room for improvement. Search the internet for the most updated information and add it to your article. 
Also, be sure to sign up on Google Alert for the latest updates about the topic. 
6. Work on content design
Believe it or not, you need to please your reader's eye, too. A better-designed content will keep people reading your content and share it. Bloggers want to please the sight of their readers with good-organized, good-looking content.
You may enrich your blog post with customized images and infographics, banners. You can also add a menu like the one you found at the beginning of this article. 
It can build a loyal audience, and it also helps link building. 
Let people know
Now it's time to make website owners link your content. The goal is to find those who backlink to the blog post(s) you used as a starting point for your skyscraper. 
Then make those website owners aware that newer and better content is in town, and they should consider linking it.
First of all, let's check the backlinks that point to the starting articles. We'll use Monitor Backlinks.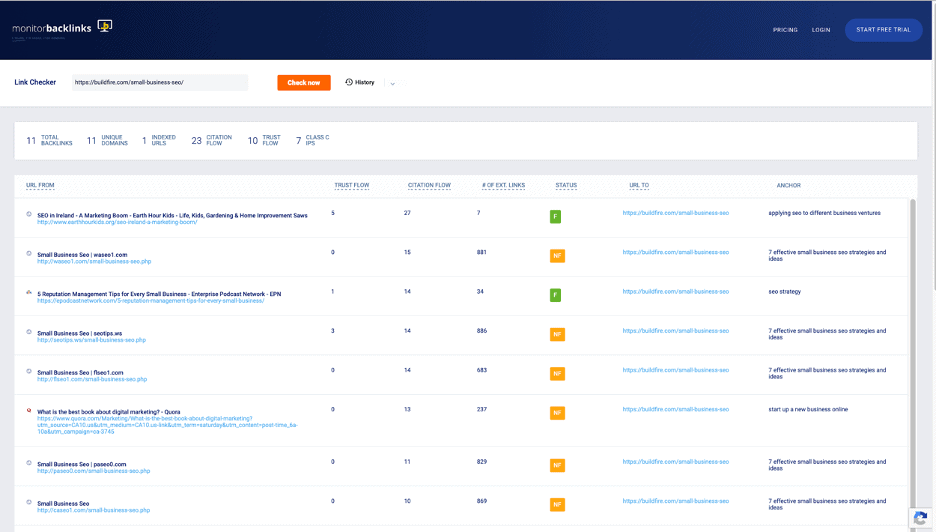 Now clean up the list from forums and platforms like Quora, leaving only the blog posts. Here you have the list of blogs you'd want to contact to make them to backlink to your article.
Be kind and convincing. You can use a mail like this:
Hi [NAME],
I've read your blog post [title] at [url], and I loved it!
I noticed that you put a link to the article [title]. I read it too, and I found it very interesting, even if a bit old. For this reason, I've written an updated version of it. 
You can read it here: [URL]
Maybe you could use it as a more up-to-date reference?
Keep up the good work!
Now, customize the template for each recipient and click send. 
Of course, most of the time, people won't even reply, but Dean had an 11% success rate, which is a lot.
Have you tried the Skyscraper Technique?
Now it's time to go to work. Remember: you have to find an article with a lot of backlinks, improve it and then reach the right people.
Have you tried the skyscraper technique already? How did it go? Let us know in the comments section.