How to optimize your website for Google
In a previous guide, we wrote about what to do when you need to check the SEO of a page to optimize it or spying your competitors. 
In this article, you will instead discover how to optimize your website for SEO, why you need it to, and what factors you should focus on to make your pages ranking high within the SERP.
What do you need to do in SEO website optimization?
When you work as an SEO consultant, the most frequent thing you hear from your client is, «I get too few visits, and I don't know why.» The first step is to have a look at Google's search console and Google Analytics. Nine times out of ten, the problem is that they don't get enough traffic from organic search or, even worse, they're getting it from the wrong sources.
It means that something doesn't work SEO-wise. But what? SEO is a vast subject, and it comprises various aspects: content-related and technical. It could take hundreds of hours to check everything, and a bunch more to create a comprehensive yet understandable report for your client. 
OK, there's a lot of information to process, but take a breath. Instead of giving yourself to overwhelming despair, you can use the SEO Spider to have a full overview of the grade of SEO optimization of your website.
Use the SEO Spider for SEO website optimization
So, let's suppose the New York Times asked you to improve its website SEO (lucky you!). You have checked the Search Console and Google Analytics, and you confirmed there are too few visits coming from organic search.
Now, it's time to use the SEO Spider to see what the problem is. Sign in SEO Tester Online, go to the SEO Spider's page, and click on the "Make a new crawl" button.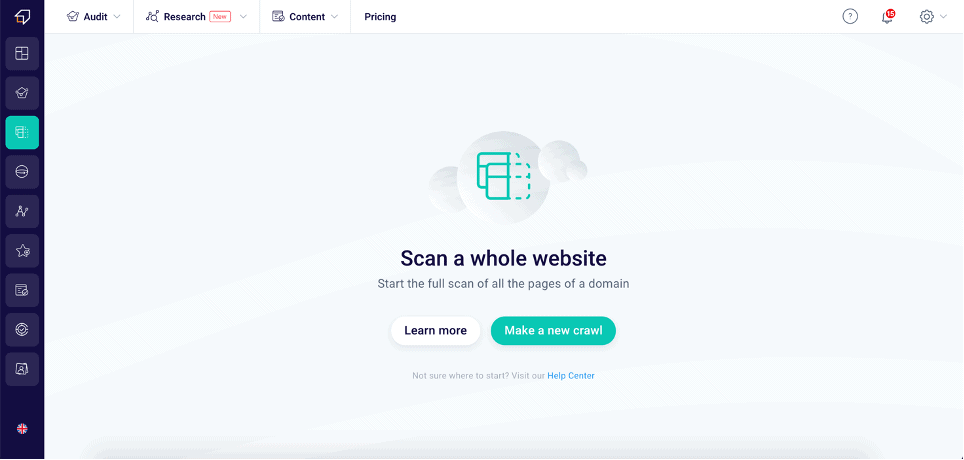 Then, enter the URL of the website you want to scan and click on the "new scan" button.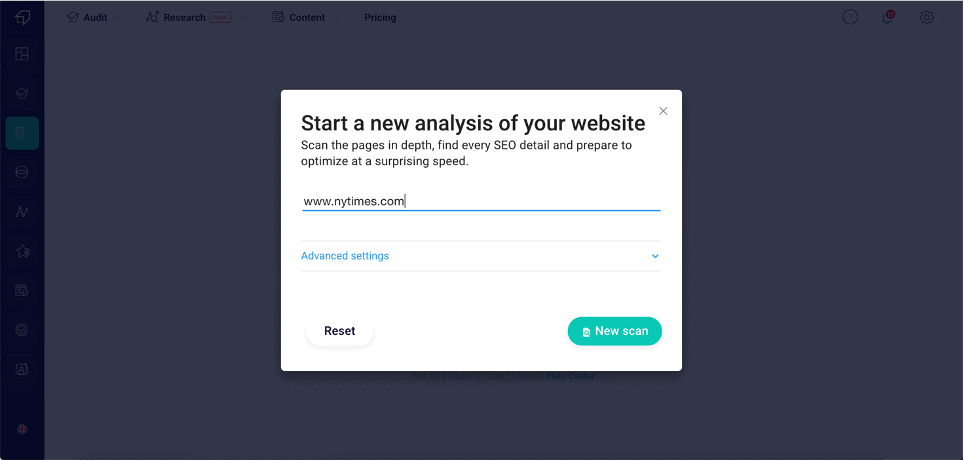 At his point, the SEO Spider will do what Google's crawler does every time it finds a new website: it will explore every indexable page and scan every element in it.
It will take a while, so why don't you have a look at our blog in the meantime? 
You can also click on the preview to access the analysis, even if it is not complete.  
Once finished, the tool will show your crawl among the active projects. To access the complete analysis, just click on Open.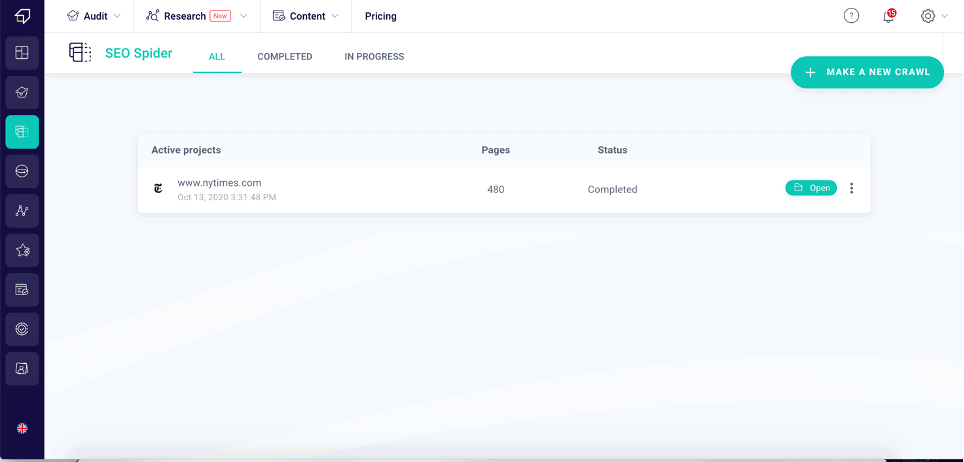 How to understand the SEO Spider's data to optimize your website SEO
Overview
The first thing you'll see is the overview. Like in the SEO checker, you'll see a graph with each category's score you need to analyze. These are Base, Content, Structure, Duplicated, Social. On the right, you'll see the preview on both desktop and mobile devices.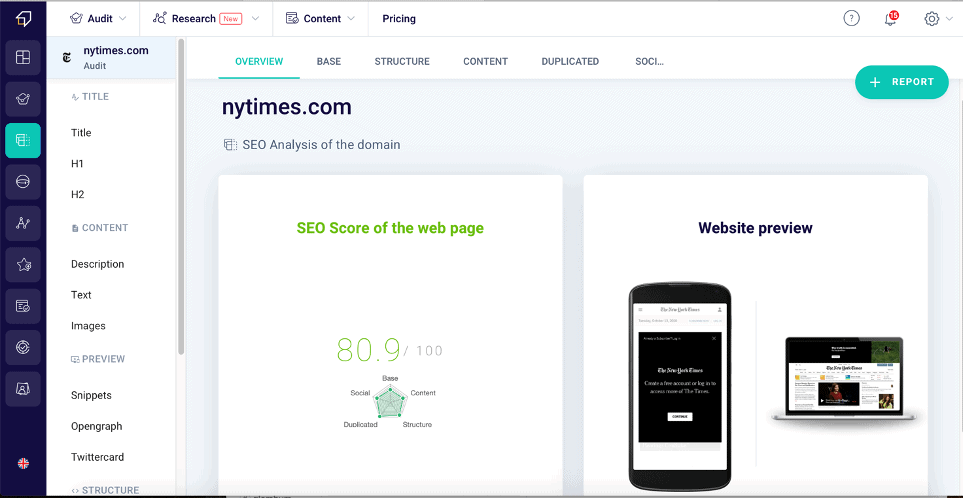 As you can see, it is doing not wrong, but there's always room for improvement. Let's see each area in detail. 
Base
In this section, you will find all the basics of both content and technical SEO. Here, you can check the Google Snippets of your pages, with SEO Titles and meta descriptions, the canonical URLs, and the correct localization implementation.
Here you can see, for example, in which pages you have an unoptimized snippet. In this case, 41% of pages haven't an optimized Google Snippet. Clicking on "view all the issues" (or on preview > snippets on the side menu), you'll see which snippets are not optimized and how they look. 
Here, you can also see which titles and meta descriptions need your attention. In our dedicated article, we mentioned, among other things, the importance of creating an SEO Title of the right length. If it is longer than 70 characters; Google will cut it out in the snippet, preventing the user from reading all its content. It means that she won't be able to get all the information it contains. 
The same goes for a meta description larger than 160 characters or not optimized at all. In this last case, Google will use an extract of your text as a meta description that is likely to be truncated as well.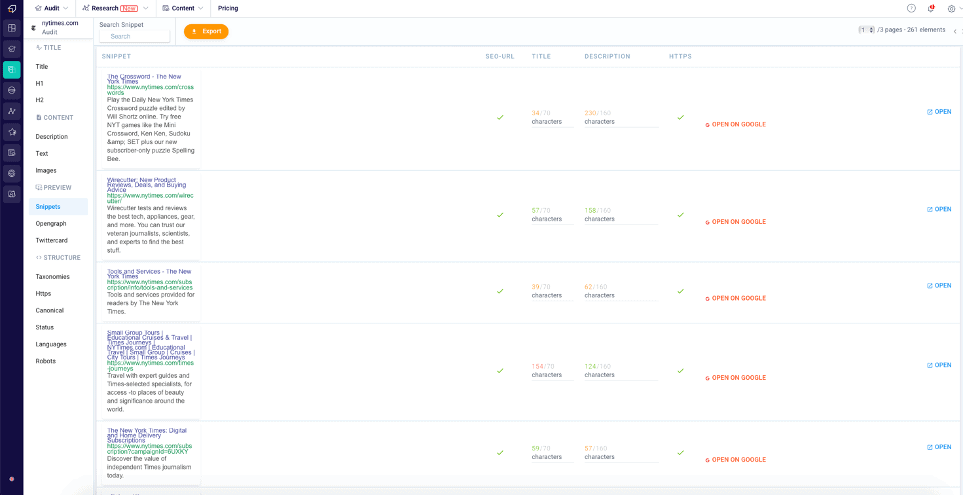 The same goes for the other entries. By clicking on "view issues" under missing hreflang or x-defaults, you'll see the pages that lack the hreflang tag (indicating which pages are the translation of a given content) x-default attribute. You can also access this information from the side menu, under structure>languages.
Structure
In this section, you'll find technical SEO aspects such as the compression, the presence of sitemap and robots.txt files, and the HTTPS certificate; if the images are optimized (have you read our dedicated article yet?); if it gets 404 errors (here's our guide to the HTTP statuses).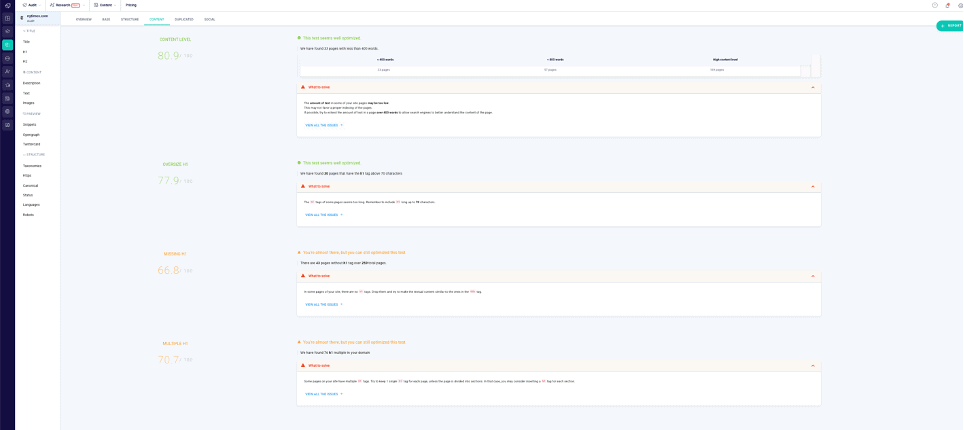 Again, if you click on "view issues" under each entry, you'll land on a dedicated page. For example, under "image optimization" or "ALT attributes oversized", you can visit the same page you'll get to if you click on content>images on the left menu. Here you'll have an overview of all images on the website.
Finally, there's Text/code ratio. If there are too few text contents, Google won't look at your website favorably. Here you can see which pages need a bit more content.
Content
Speaking of which, we got an entire section dedicated to content. You can see which pages need a bit more content and what headings are missing or too big. Speaking of headings, have you taken a look at our guide to heading tags already? 
In any case, if you click on view issues… well, you must know that by now.
If you want to know more about content creation and SEO, we advise you to explore our dedicated blog section. 
Duplicates
Duplicates are one of the most penalizing factors for search engines. They can interpret a duplicate page or heading as an attempt to produce unoriginal – and thus not useful – content. So, you must pay extra attention. How? But with SEO Spider, of course!
Here you can know at a glance how many pages, SEO titles, meta descriptions, and headings are duplicated within your website. And, again, if you click on "view issues" you can see which ones. 
Social
Social plays a significant role in SEO. While they're not a ranking factor, they're still a social signal, as we pointed out in our section. 
In this section, you'll be able to see which pages require optimized Opengraphs and Twitter Cards (they're the "snippets" of your website that appear on Facebook and Twitter, respectively).
Once again, you can view which previews need improvement by clicking on "view issues".
Report
Now that you've checked everything, it is time to send your report to the NYT management. We know what you're thinking: it's going to take you ages. Not at all, friend!
In fact, it will require you a few seconds. Just click on the +Report button on the top right-hand corner to create a standard or white-label report. We recommend choosing the latter, as it will add a more personal (and professional) touch.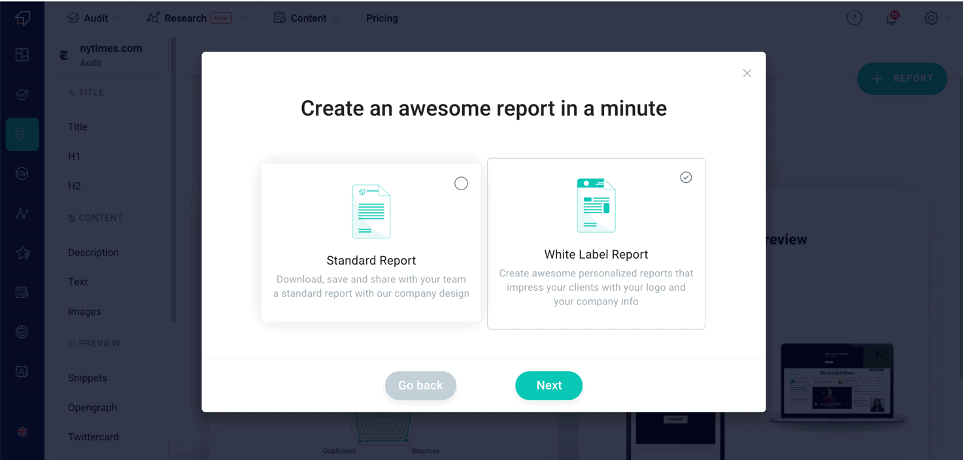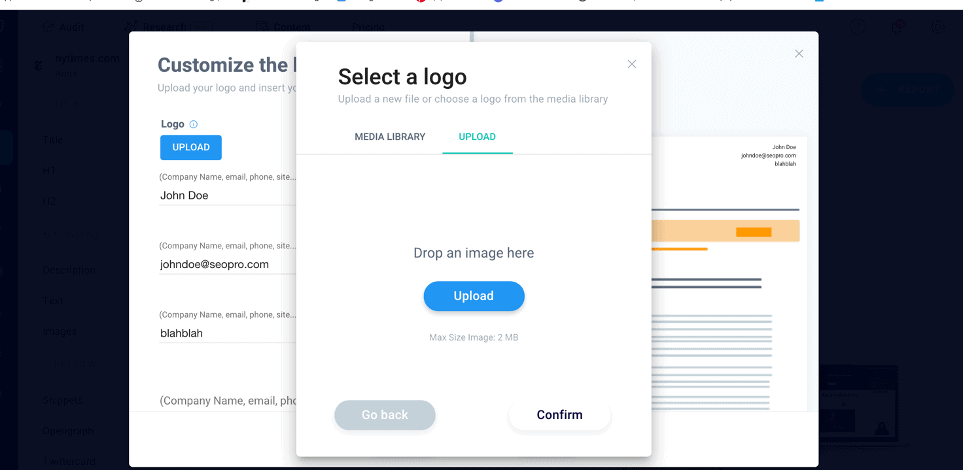 Customize the header with your logo and your info, then select the information you want to show. Then add some notes if you wish.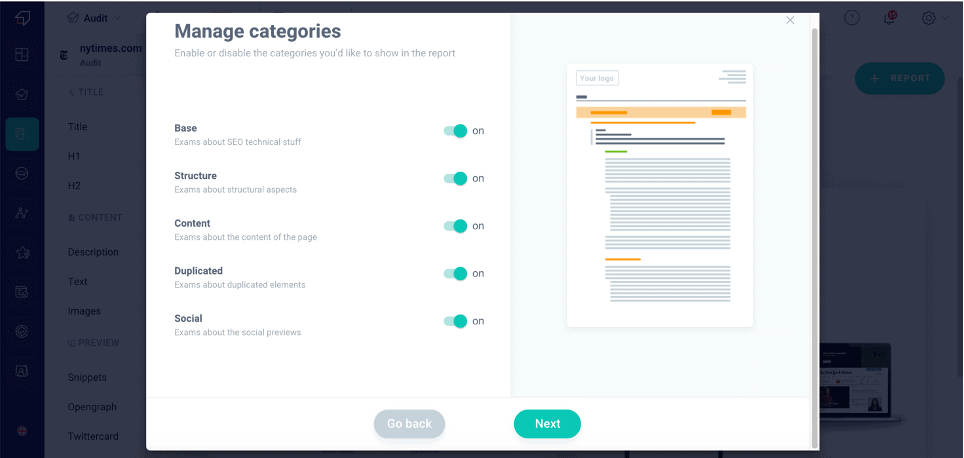 Finally, click on download. You'll receive your customized report in your mailbox!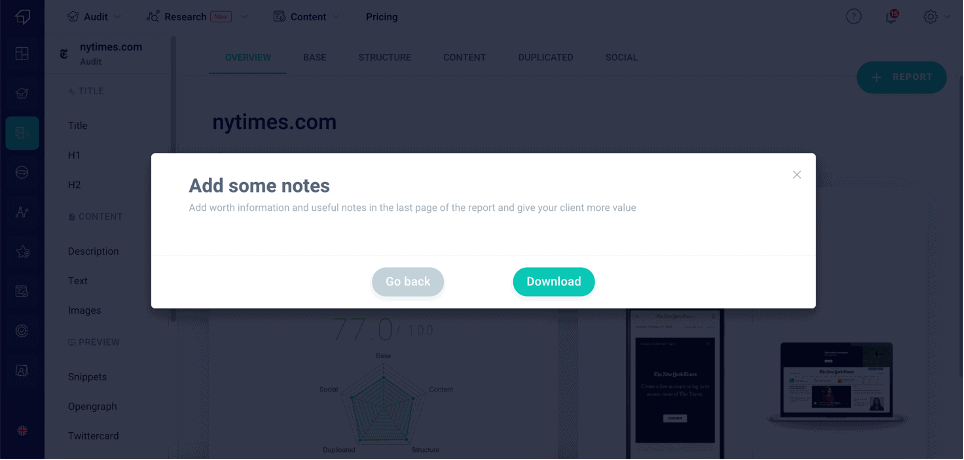 That's it!
Have you tried the SEO Spider already? How was your experience with it? Let us know in the comment section.