SEO Audit Guide: How to optimize your site for Google
So, you've put your webpage online, and it is how you've always wanted. But something doesn't add up. Why doesn't it rank on the SERP (the Search Engine Results Page) as it is supposed to do?
There could be several reasons, too many to make a guess. That is why you need to do a thorough SEO Audit. In this article, you'll find out what an SEO Audit is and how to do it for free with SEO Checker, the SEO Tester Online's SEO Audit tool. 
What is SEO Audit?
SEO Audit is the analysis of your webpage made to assess the optimization of that page for search engines. You must perform it at regular intervals.
In doing a basic SEO audit, you must consider on-page SEO.
What are the factors that influence your ranking?
On-page SEO includes all those factors that influence your ranking and consist of both technical SEO and content-creation aspects.
To put it into another view, on-page SEO is about the ranking factors that you can influence by editing your webpage's HTML code and content.
Technical SEO
Technical SEO encompasses the factors that influence the quality of the spider's exploration when crawling your website. They concern your page's HTML code and a few other aspects, such as:
The page loading speed and performances,

HTTPs certificate;

An

SEO-friendly URL

;

Effective management of canonical URLs;

"Positive"

HTTP statuses

.
Content creation
This one is more about the people who are going to read your comment.
Make sure it is going to be enjoyable for your users in every step of their experience. It means to give them useful information before they even click on the link within the SERP – through a rich snippet and well-designed social previews – and after, with useful content.
Then, when they click on your page link, they should find content that
There is a lot of stuff to check, isn't it? It may require hours or even days to sort everything out. If only there were a way to obtain all the information you need in seconds. It would be great. Or is it?
How to do an SEO Audit for free with the SEO Checker 
SEO Checker is a fantastic free tool for the SEO audit. If you sign up, you can check up to two web pages for free every day. 
To start, just go to the SEO Checker page and type your URL (or your competitor's) to perform up to 50 analyses on the page SEO.
Imagine that you're managing a music store and want to check a product page of one of your competitors.

Overview
After a few seconds, here's what you're going to see.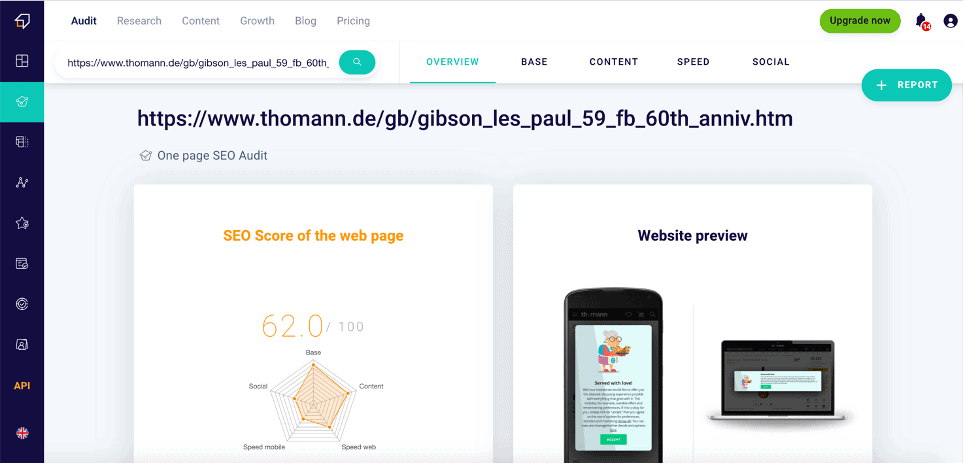 The first thing you'll notice is the SEO Score. At a glance, you'll see how much the page is optimized. 
You'll get both a numerical score about the overall performances and a graph that tells you which areas have room for improvement. Thomann's product page could do better in this case: its score is in the yellow range. If it has scored better, the results would have been green. If things were worse, they would have been red.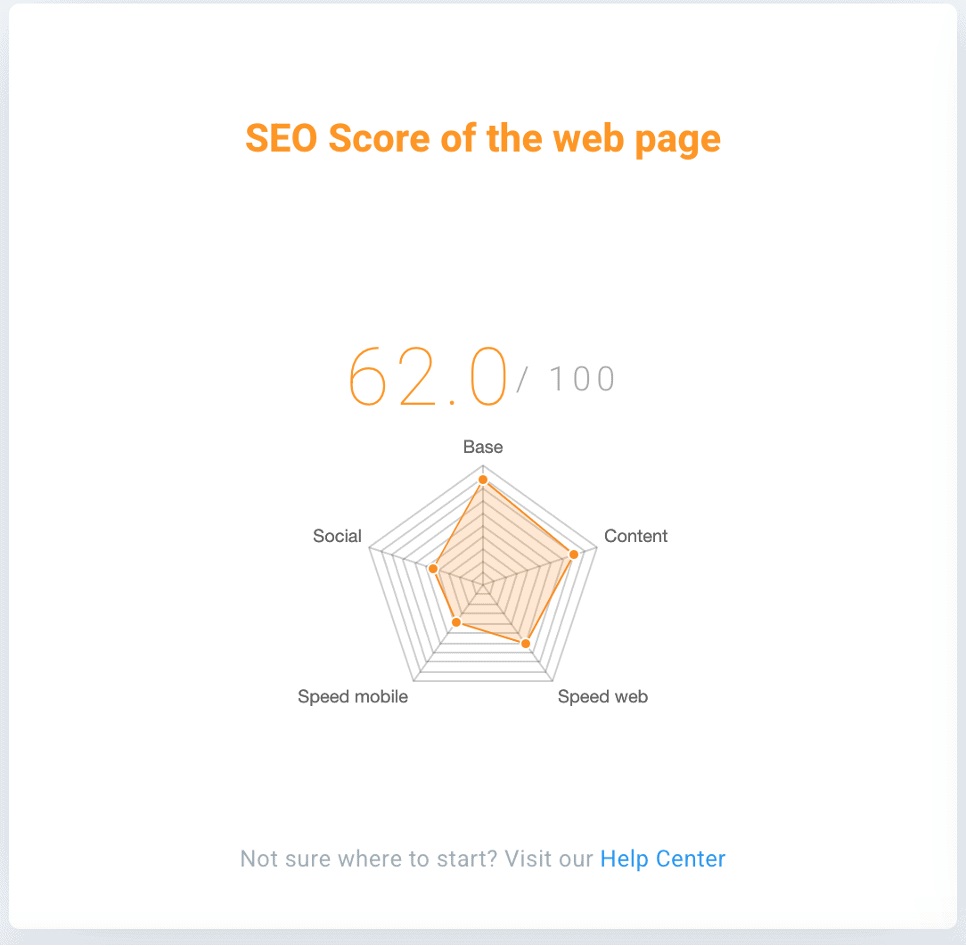 The graph consists of five areas: Base, Content, Web Speed, Mobile Speed, and Social. 
By hovering the cursor on each dot, you'll get the specific score of each section. 
Also, you can preview the website from both mobile and desktop on the right side of the screen.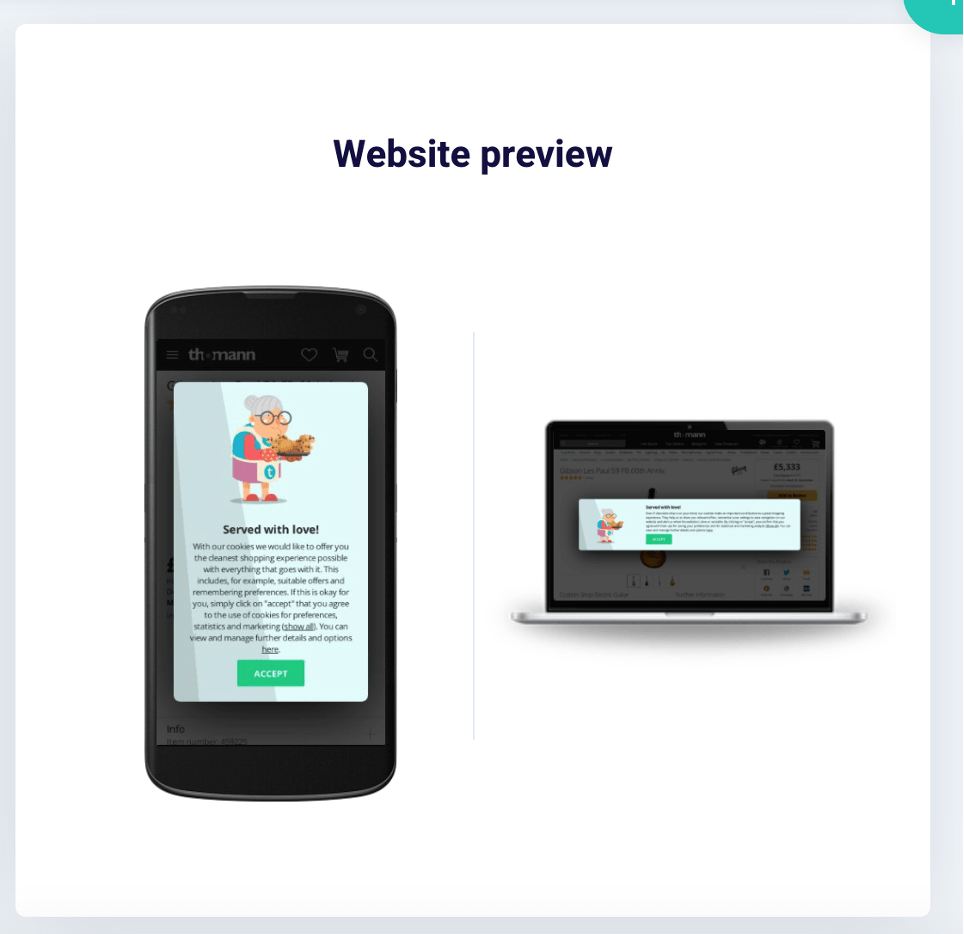 Base
Now, go to the top menu and click on Base. Here, you can have a look at all the page's main elements. Here you'll find data concerning technical SEO:
Google Snippet;

Title, Meta Description;

H1, H2;

URL Keywords;

HTTPS;

SEO Friendly URL; 

Meta Robots; 

Robots.Txt;

Sitemap.
Each aspect has a score and a short comment that tells you whether you need to optimize that aspect, the preview of the specific item, and two boxes: Read the tips and What to solve.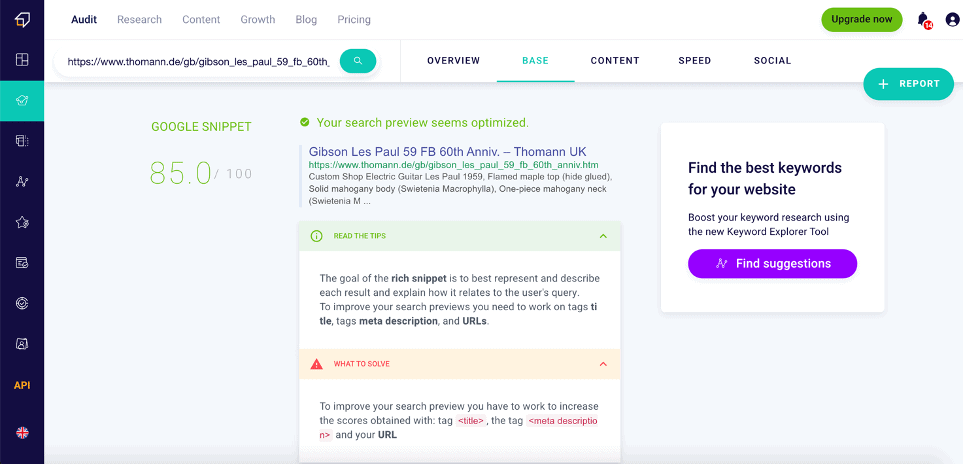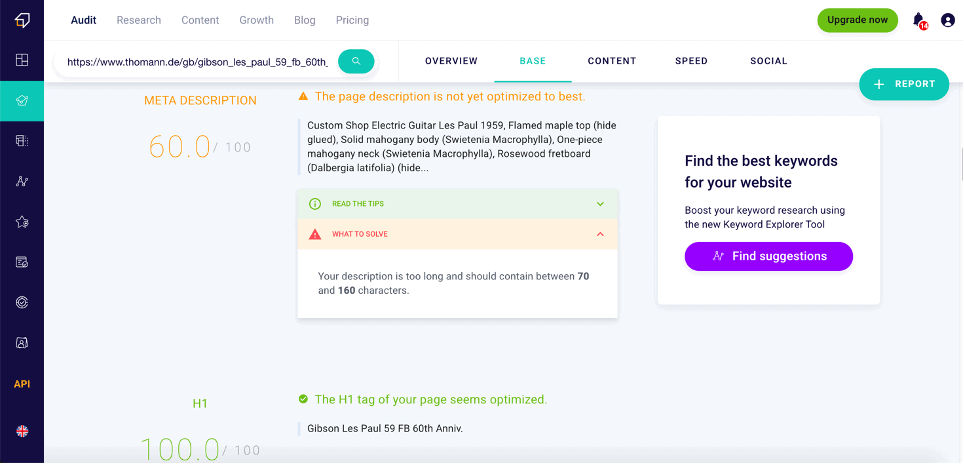 By following the hints, you can improve your score and boost your chances of intercepting new traffic on your page.
With SEO Checker you'll also be able to create an SEO report. Click on the "+ Report" button, follow the instructions, and get your report in your mailbox in less than 1 minute. 
You can also choose whether to create a Standard Report with SEO Tester Online design or a White Label with your contact information and logo.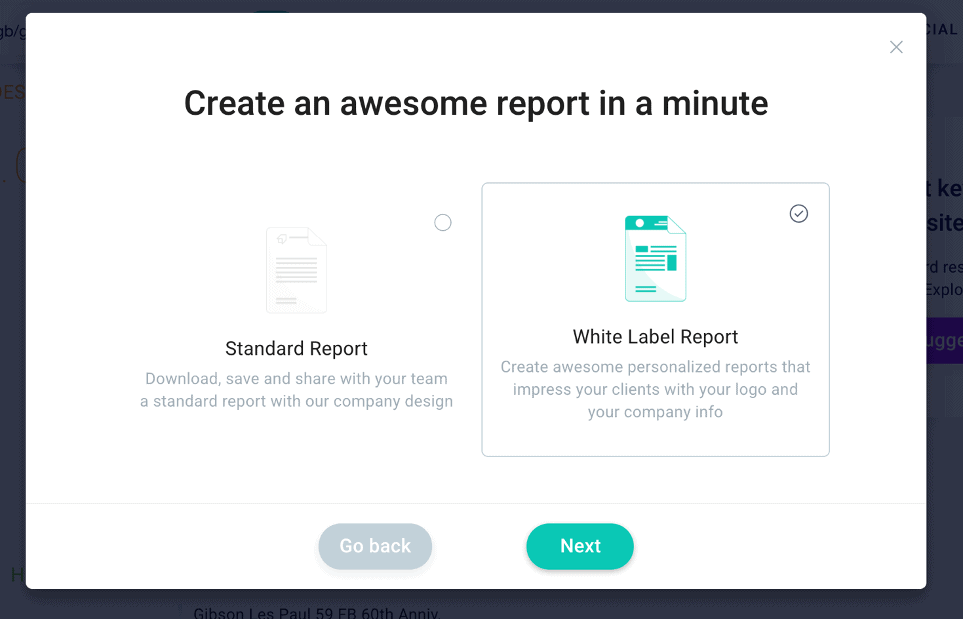 Content
Google's crawlers care a lot about technical SEO, but the content is gaining growing importance. Big G gave user experience the top priority. It wants people to find content that is useful, updated, and original.
In the Content section, you'll get eight scores
Unique Keywords: it tells you if the crawler could suspect an attempt of

keyword stuffing

.

Title Coherence and
H1 Coherence: you will get a high score if your titles include the same keyword you use in your paragraph. It will tell the crawler that your article is consistent with them, and, thus, your content is useful.
Text/Code Ratio. If the score is low, it means that there's too little text on the page; thus, your content could not contain enough information for the user.
Page Size. A too heavy page is slow to load, and users could abandon it even before seeing what it is about.
Images missing Alt: they make crawler's job more difficult because they cannot learn what they're about. And you don't want to put yourself in the way between the spider and its content, do you?
Title on Tag A: same as the Alt tags, but for links. 
Microdata: they are pieces of content that help the crawler understand what kind of page it is visiting. We dealt with them in

our article about rich snippets

.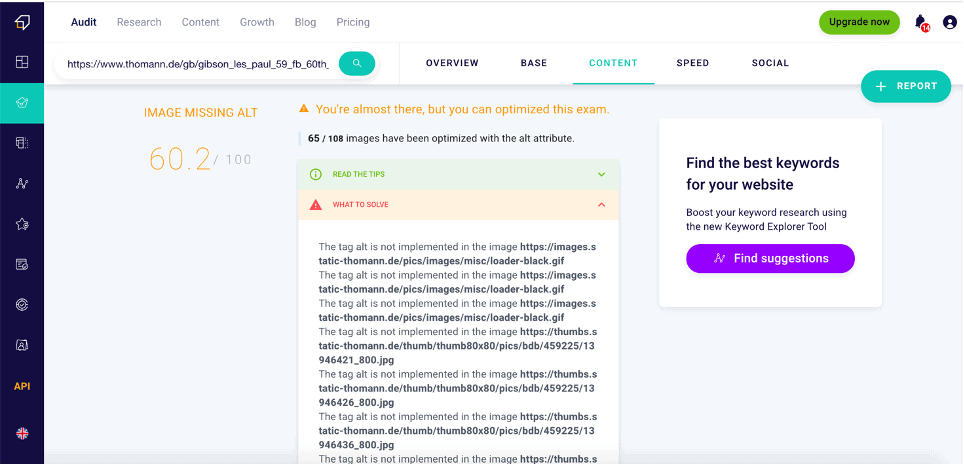 As we can see, a lot of images on the page are missing the Alt tag. Also, the SEO Checker is nice enough to tell us which they are so, if you were the webmaster, you could take care of them in no time.
Speed
Speed is one of the most critical factors on a web page. Taking care of performance improves the user's experience who wants to enjoy your content and the way the search engine ranks your website. On the contrary, a slow-loading page will increase the rebound rate.

On SEO Checker, you can assess the page's loading speed both on Desktop and Mobile.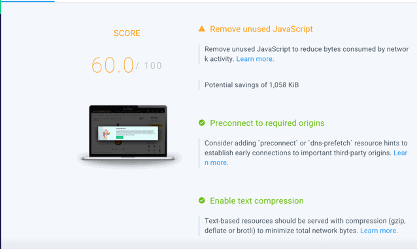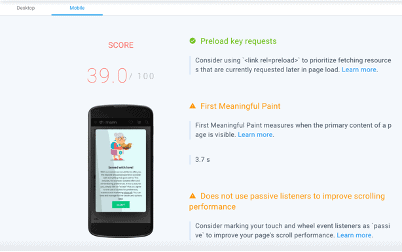 In both, you can find an overall score and no less than 38 specific scores and tips, each for every aspect that can influence a page loading speed. Here some examples
Remove unused JavaScript

Preconnect to required origins. 

Enable text compression, so your text will be faster to load.

 JavaScript execution time

Eliminate render-blocking resources

Remove unused CSS
They're quite technical, so you should let your developer deal with them. Anyway, if you are on your own or you're just curious, there's a link at the end of each hint that you can visit to learn more.
Also, in the "what to solve" box, you will find the right tips to take care of all the issues.
Social
The last section is related to optimizing the content of the page for Social networks.
Open Graph and Twitter Card are not considered as SEO factors. Still, they're considered ranking signals.
In the Social section you can find the analysis of 4 elements:
Opengraph;

Twitter Card;

Social Plugin, i.e., if the page has enough share buttons for social networks.

Popularity on Facebook, i. e., the number of times people shared the page on Facebook.
SEO Checker: Chrome Extension
You can get your page's SEO Audit for free with just a click, thanks to our Chrome Extension.
If you download it, you'll have a free SEO audit tool right on your browser.
SEO Checker Tool is currently one of the 5 most downloaded Chrome Extensions in the SEO category. More than 4,000 users use it, will you join them? Let us know in the comment section!